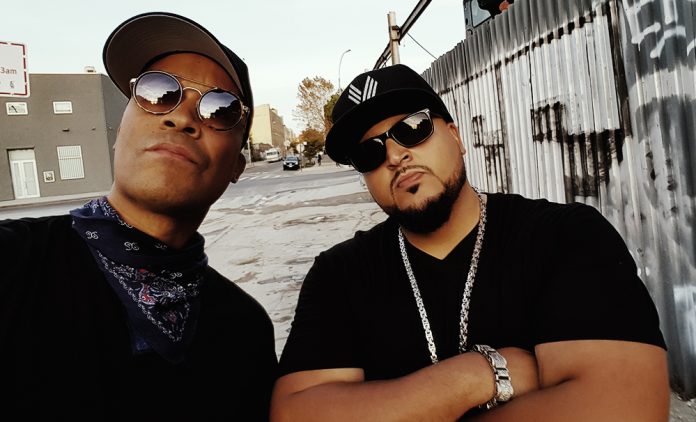 Well Dressed Villains is an exciting music collective that blends genres and sounds.
With their new album 'Hide Your Valuables' released, they joined us for an interview to talk about their music.
Hi, how are you?
Doing great—thanks. We're super excited about the release of the new album. It was a lot of work and so we're looking forward to sharing it.
So, how did Well Dressed Villains form?
We met about a year and a half ago in Brooklyn. We both live in Bushwick and a mutual friend introduced us. Our first official face to face was at the 2016 Bushwick Collective Block Party. It felt appropriate being surrounded by our amazing creative community of street artists and performers. Thereafter, we soon began working on two singles to submit for a tv/film project — and we've been rocking out ever since.
You have an album out, what is it about?
Our new album Hide Your Valuables is an emerging sound of Brooklyn—a blend of hip-hop, rock, EDM and pop. The urban landscape continues to shift here. New faces, people and cultures are overlapping and new definitions of Brooklyn culture keep surfacing. This album is a sonic scoop of Bushwick, Brooklyn and the things we value and want to protect.
What are the challenges of making an album?
Everything. I'd say our biggest challenge was the blending of our visions. As J. Vargas, the Investment and RAH, we each have our own unique styles personally and sonically. Learning to collaborate and communicate as a team takes time, so we've had detailed discussions regarding everything from individual sound selections, arrangements and everything in between. Completing an album is a marathon so being on the same page and pacing yourself is a key ingredient.
Any tips for newcomers that want to write and produce albums?
I'd say, learn from the pros and save yourself some time. There are loads of youtube videos about all facets of music production from the best in the business. They offer incredible game-changing tips that will raise the level of your production dramatically. Shout out to Pensado's Place!
Describe your sound in one word.
Kinetic
Describe yourselves in one word.
Villainous
Who and what inspires you to make music?
Life—and a desire to express ourselves and share our story
What are your plans for 2018?
Promoting the album and building an audience. We have a new approach to hip-hop and we'd like people to feel what we mean sonically by that statement. So we'll be playing a lot of shows and looking to tour nationally and internationally if we get the chance. Collectively, we have a lot of music between us so we're going full throttle and turning up the volume.
You can follow Well Dressed Villains here.
Free Monthly Newsletter
Subscribe to our free monthly newsletter.
Thank you for subscribing.
Something went wrong.