Guillermo del Toro delivers a gorgeous love letter to Jack Arnold's Creature from the Black Lagoon (1954). Peppered with social commentary, brimming with gripping performances, and featuring a unique take on the 'beauty and beast' tale, The Shape of Water is Del Toro's mastery for monsters distilled to fine simplicity.
Set in Baltimore in the early 1960s, Elisa (Sally Hawkins) works as a night cleaner at a government facility. Although mute, she still has her friend and workmate Zelda (Octavia Spencer) to keep her company. Zelda often helpfully communicates on behalf of Elisa when someone doesn't understand sign language. At home, Elisa lives next door to her friend, Giles (Richard Jenkins), a struggling advertisement painter. One evening, Elisa witnesses a new arrival to the facility: an imposing container filled with water. Peering in, Elisa is one of the first to see the Amphibian Man (Doug Jones), an aquatic humanoid captured in South America and brought back for study. It isn't long before the Amphibian Man notices Elisa, and the pair forms an unmistakable, deepening connection. However, Strickland (Michael Shannon), the overseeing government official, has more sinister, barbaric plans for the aquatic athlete…
This is a story about downtrodden people surviving in a world that doesn't want to acknowledge them. It's a tragic premise, but it's one that allows for an enriching exploration of friendship and love. All of our protagonists are, in one way or another, demoralised and exploited people. Elisa and Zelda are disregarded as cleaners. Giles' paintings of idyllic nuclear families fail to earn the respect of his employers; and, as we discover, so does he. Last but not least, the Amphibian Man has been ripped from his home and subjected to torture, seen only as a possible means to an end in the Cold War.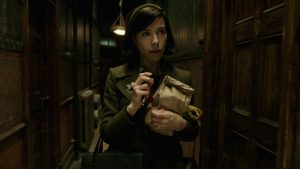 Sally Hawkins is simply marvellous as Elisa. Her decision to let go of everything for love demonstrates the power of emotion. Elisa is willing to let every vestige of her already unconventional life fall away to leap into romantic taboo. Love is an unstoppable force, and it's clear that Del Toro understands this precisely.
Sally Hawkins projects that deep romance wonderfully. At first, without a single word spoken, she communicates a palpable need for intimacy; presenting it both comically and seriously. Once she has begun her brilliant love with the Amphibian Man, her performance shifts. She is still the vulnerable woman we were introduced to, but that part of her becomes secondary to the connection she's found. The joy she's found flows from Hawkins' infectious facial expressions. When Elisa smiles, we smile.
The other half of that love is Doug Jones', Amphibian Man. His performance is outstanding. Building on what performers like Ben Chapman established when turning the Gill Man of Creature from the Black Lagoon into a character, Doug Jones depicts the Amphibian Man with nuance and grace. At times charming and in others beastly, Doug Jones sustains the complexity of humanity in an inhuman form. The practical suit used is sublime. It retains the form of the Gill Man, but has the unmistakable touch of Del Toro, calling to mind a certain character from his Hellboy films.
Perhaps one of the most interesting aspects of The Shape of Water is how Del Toro uses familiar beats from 1950s science fiction and uses them to develop the narrative. In doing so, he not only pays tribute to those films that have influenced him, but he manages to bolster his film's meaning as well. In films like Tarantula (1955), The Deadly Mantis (1957), It Came from Beneath the Sea (1955), and the Gill Man trilogy – particularly Revenge of the Creature (1955) – women consistently have interesting occupations such as journalists or scientists; and yet the men around them constantly dismiss or objectify them. This is also the case in The Shape of Water, with Strickland's domineering gaze leaving the audience feeling as uncomfortable as Elisa, yet the intention behind its inclusion is sharply different. Del Toro includes the kinds of casual sexist remarks prevalent in 1950s science fiction and uses them to build character. With Michael Shannon's insidious Strickland, it makes him into a monster. With Octavia Spencer's Zelda and Sally Hawkins' Elisa, it shapes them into underdog heroes. In doing this, Del Toro directly references his inspirations but truthfully appropriates their outdated social shortcomings for the betterment of the story.
The Shape of Water is a film that basks in the warmth of humanity. It subjects us to frighteningly real terrors to make us aware of what matters: those we love. Of course, that great love is not exclusively romantic. It appears several times in the compassion and loyalty shared between friends. In amongst the references to Creature from the Black Lagoon, the beautiful production design, and truthful performances is a film that celebrates seeing beauty all around us. Guillermo Del Toro has masterfully told a story that communicates the core of his worldview, and in turn, touches ours. If the purpose of a film is to touch the soul, then The Shape of Water has succeeded.