James Ferman, former Chief Censor of the BBFC, once described Tobe Hooper's The Texas Chain Saw Massacre as the "pornography of terror." Indeed, the film, in Ferman's view, was uncertifiable due to its prolonged air of oppression – as opposed to any one scene or shot. Ari Aster's Midsommar often matches that air of oppression. Taking us through its horror in the summer daylight like Texas Chain Saw, Midsommar is a grueling watch. Aster has achieved a monumentally effective horror film. Midsommar makes its nods to the likes of Chain Saw and (obviously) Robin Hardy's The Wicker Man, but by its end, it is something new and deeply unpleasant.  
Dani (Florence Pugh) and Christian's (Jack Reynor) relationship is in dire straits. Dani's anxiety at the state of her family weighs heavily, and she worries that she's pushing Christian away because of it. Meanwhile, Christian's selfish concerns (voiced by his friend group) lie in the lack of sex in their relationship, and of his inability to deal with Dani's worries. Dani's trauma worsens as she loses her parents, seemingly at the hands of her own sister. Months later, their friend, Pelle (Vilhelm Blomgren), invites Christian, Dani, and their friends to Sweden for the summer – to be included in a rural summer festival Pelle's commune celebrates every ninety years. Dani's anxieties remain, and frame what develops into a nightmare of ritual barbarity and traditional horror.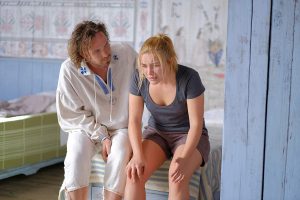 Florence Pugh is superb. Though every cast member delivers, Pugh carries the film. Her grief is wholly convincing, connecting us with Dani and disturbing us with her emotional turmoil. It is in the moments wherein Dani lets loose with her anger and loss that Pugh amazes with her portrayal. Horror is a genre whose characters routinely scream, but much like Marylin Burns in Texas Chain Saw, Pugh's screams seem drawn from such a belief in the reality of her trauma that we beg for release.  
Midsommar is a long film. Films that extend beyond a crisp ninety-minute runtime have to, in this critic's humble opinion, earn their longer duration. Midsommar doesn't quite manage this, and scenes toward the end of the film tend to drag. This is, in part, due to the audience's extra-textual knowledge of sources like The Wicker Man, from which Midsommar's climax borrows heavily. By the time we're sat at the long table covered in flowers with Florence Pugh at its head, we're roughly aware of the ground the climax is going to tread. Consequently, it becomes a waiting game for the inevitable, and whilst references to The Wicker Man are appreciated, they become an issue when we're waiting for that film's ending to play out rather than holding out for something that may genuinely surprise us.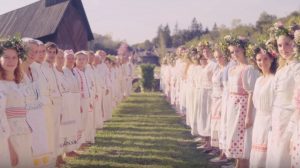 As with Aster's remarkable Hereditary, Midsommar boasts some deliciously disgusting imagery. Scenes of the human body being destroyed are so harrowing because cinematographer Pawel Pogorzelski allows much of it to play out in wide stills. We consume awful images in a detached manner, devoid of indulgence. Indeed, Pogorzelski's visuals are stunning, often capturing the symmetry and parallel shapes of a place and situation otherwise devoid of clear lines – be they of the trees or of rationale.  
One point of contention is the disabled child, Ruben (Levente Puczkó-Smith). No doubt you will have seen him on much of the film's marketing material. In the film, the physically-disabled Ruben is the commune's oracle, his mind apparently unclouded and so able to see what may unfold. Unfortunately, this character's presentation raises some uncomfortable ableism. Ruben holds little function in the narrative, and his being disabled isn't ultimately necessary for what happens. With this in mind, Ruben's function is to unnerve with his visage, and if a physically-disabled child is there to scare us, we may as well be watching Tod Browning's 1932 Freaks.  
Midsommar isn't as brilliantly-woven as Ari Aster's Hereditary, but it establishes an air of oppression from its opening images that is only eased upon the film's end. Despite its heavy leanings on The Wicker Man that occasionally stifle its own identity, Midsommar frames an image of a breakup and the horror of grief through a folk-horror lens that, for better or worse, most will be familiar with. The central performance of Florence Pugh is brilliant, and she alone makes the film worthwhile. With its considered visuals, Midsommar presents some truly grotesque scenes. Whilst I suspect Hereditary may age better than Midsommar, this is nonetheless a very effective horror, and one that is enthusiastically recommended.