Scary Stories to Tell in the Dark may be the most fun I've had at the cinema this year. That isn't to suggest that there haven't been some terrific releases, but Scary Stories hits a balance of tone, meaning, and visuals that makes it easy to sink into. Utterly primed for enjoyment from its opening frames, you venture into the adapted stories of Alvin Schwartz; complete with cine-literate nods along the way.  
On Halloween night in 1968, horror writer Stella (Zoe Colletti), bookish Auggie (Gabriel Rush), and immature Chuck (Austin Zajur), narrowly escape the hands of psychotic bullies when they meet Ramon (Michael Garza), a stranger in town. With him, the friends head into an old house to escape their tormentors. The house, however, is one of local legend: of a Sarah Bellows, a woman who supposedly murdered children by reading them scary stories. Stella finds the old book that Sarah wrote her stories in and, in taking it from the house, unleashes something. New stories appear in the book, targeting everyone who entered the Bellows house. With each story coming to life, the friends race against time to stop the spectre of Sarah Bellows. In turn, they uncover the complicated history of the book's author… 
This is indeed a film about stories. It's a film about how stories, and their passing from one to another, can either uphold or deny truth. The stories that come to life are gruesome and shocking, but their horror ultimately lies in showing how stories have been used to bury people. With this in mind, Scary Stories' most striking success is its precise use of setting. The events unfold over the days preceding and after Richard Nixon's election. Early on, we see Nixon paraphernalia; some of it defaced to turn the 'X' in his name into a swastika. Immediately, meaning and perspective are key themes. Clips of Nixon speaking on televised debates are peppered throughout; one such hears Nixon say he is uninterested in bombing anyone if he doesn't have to. Within three months of his inauguration, Nixon had approved a covert bombing campaign of North Vietnam and Cambodia.  
Scary Stories is all about buried truths. Its characters uncover things that need acknowledgement and understanding. Only in truth can they, and we, be set free from the monstrous Bellows' curse; or indeed, the curses from untruthful governments…past and present.  
Serious political themes aside, the setting also allows for some delicious references to classic horror. From Night of the Living Dead (1968) playing at the local drive-in, to the Beast from Haunted Cave (1959) poster on Stella's wall, the film revels in its affection for what's come before. The production design is superb, selling us the Halloween tones in its teal and orange colour palette. The sheer number of Cadillacs that pass by is as funny as it is precise.  
The performances of the ensemble cast play off of one another well; Auggie and Chuck are endearing in their comic touches, immediately securing our care. Zoe Colletti's performance as Stella is highly commendable. Colletti is able to able to drive the whole story forward, while lending a depth to her own character. Indeed, Stella is fairly nuanced. We learn that she lives with her father, and that her mother left many years ago. Stella blames herself for her mother's leaving, and that guilt frames her desire to help her friends once the Bellows book has come to life. This thread also provides a great link between Stella and Sarah – but you'll have to see the film yourself to realise it!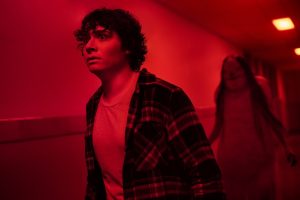 The monsters, ghosts, and ghouls that Scary Stories has to offer are faithful adaptations of the truly astounding drawings found in Alvin Schwartz's original books. Stephen Gammell's original illustrations are legendary in their nightmarish quality. That they have been so superbly recreated is one of the film's many highlights. The 'Toe Woman' is particularly gruesome. It is but a shame that she isn't on screen for longer, for the work of the makeup department must be commended.  
Unfortunately, some of the creatures have been augmented with CGI to lesser effect. The final monster, the 'Jangly Man', looks superb when one sees the behind the scenes footage of Troy James' performance. However, the final product has a thick, digital sheen that betrays its physical presence. It's a shame, because the 'Jangly Man' receives the most screen-time, but the digital touches make him the least scary.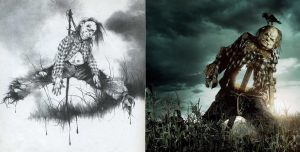 However, it is the ending that sees the film's weakest point. Without revealing anything, the 'resolution' seems tonally confused. One of our protagonists is faced with an awful reality, one that relates to Nixon's spectre. Yet the closing narration from Stella is optimistic in outlook. It sits at odds with what is, openly, a grim conclusion for one of our core cast. The tone is confused, and it leaves one unsatisfied.  
Nevertheless, Scary Stories to Tell in the Dark is a good, fun film. Its characters are worth caring for, and the remarkable political awareness are just a few of its highlights. The narrative focus on truth and the importance in its communication make this an earnest horror picture. The makeup and creature effects are superb. That artists like Mike Hill have been able to so accurately translate Stephen Gammell's horrifying drawings to real, breathing life is terrific. Though it is a shame that an unconvincing digital sheen has masked a few of them, the makeup work still shines through on the other ghouls. Enthusiastically recommended.