Fair warning: this review contains spoilers. 
The Rise of Fan Service, err, Skywalker is a messy end to the Star Wars saga. It is undeniably enjoyable and often entertaining, but its moments of brilliance are underpinned by a shallow feeling. Indeed, this feels like an ending, just not to the story started in The Force Awakens and developed in The Last Jedi. This critic cannot say that they didn't have a good time with this film, but The Rise of Skywalker chooses to play things safe, briefly stunning audiences with twists and turns predictable to anyone familiar with the franchise.  
With the Resistance regrouping, news is heard that Emperor Palpatine (Ian McDiarmid) has "somehow" returned. From his dark abode on the planet Exogul, his plans are to bolster what the First Order started with a fleet so powerful nothing can stop them. Resistance heroes Finn (John Boyega), Rey (Daisy Ridley), Poe (Oscar Isaac), and Chewbacca (Joonas Suotamo) must race to find a Sith Wayfinder device to lead them to Exogul to put an end to Palpatine once and for all.  
Addressing the sithlord in the room, Emperor Palpatine is back, everyone! Played once again with incredible malice by Ian McDiarmid, Palpatine slips into the role of this film's big villain. This comes as both a pleasant and unfortunate surprise. Ultimately, Adam Driver's Kylo Ren is undermined.  
In The Force Awakens, Kylo Ren is a scared child, haunted by his own family legacy and caged by Supreme Leader Snoke (Andy Serkis). In The Last Jedi, Kylo renounces the past and frees himself from Snoke's control. Significant to the moral centre of The Last Jedi was the suggestion that Kylo's devotion to the dark side was bound to Snoke, and freeing him could bring about his redemption. Instead, once freed, Ren goes further down the path of darkness than we could have foreseen – "Please don't go this way" Rey begs him. For The Rise of Skywalker, one would expect to see Kylo Ren finally realise his place as this trilogy's main villain, having developed this way over the last two films. This, sadly, isn't quite the case.  
In reintroducing Palpatine, The Rise of Skywalker puts Kylo Ren back into the position of puppet. Though there is more to this that the film reveals as it goes on, the initial trajectory of Kylo's character (as established in The Force Awakens and The Last Jedi) is no more. It's a shame since Adam Driver's unhinged performance in The Last Jedi hinted at the horrors that were to come once he took the mantle of 'Supreme Leader'.  
And yet, I cannot bring myself to dislike the execution of Palpatine's return in The Rise of Skywalker. The makeup that McDiarmid wears is more horrifying than any appearance of the Emperor to date. The growl of McDiarmid's iconic vocal delivery seeps into your head; the words lingering and hanging in the air. The production design that accompanies Palpatine is equally terrific. His throne and its spiked shape create a silhouette that strikes you, and the mechanical apparatus that holds Palpatine's frail form is an inspired choice.   
At once, Palpatine's return is met with narrative unease but visual splendour. I hesitate to use the term "lazy writing", but having Palpatine return as the big villain circumvents any need to develop a new threat – let alone Kylo Ren. We have six Star Wars films (and the Star Wars: The Clone Wars series) that showed us why Palpatine was to be feared. The Rise of Skywalker bypasses the necessary narrative time spent on developing a new character by using one we're already ready to hate/fear.  
Speaking of Palpatine, it's worth noting the lack of imagination that persists when it is revealed that Rey is, in fact, his granddaughter. This is ultimately disappointing, but perhaps unsurprising. One of The Last Jedi's strongest elements was its revelation that Rey's family were nobody. That revelation felt meaningful; the idea that anyone could become a Jedi or wield the Force without a family connection was resonant and hopeful. The Rise of Skywalker tramples that with a return to franchise familiarity. Fan theories from the convincing to the absurd proliferated the internet in the interim between these films, with the speculation of Rey's lineage to Palpatine ultimately coming to pass. After the iconic reveal of The Empire Strikes Back, some might argue that Rey's link to Palpatine feels like Star Wars. It does not, however, feel satisfying.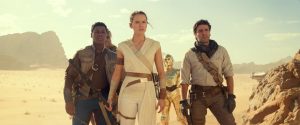 In terms of performances, John Boyega and Oscar Isaac are terrific. Their chemistry onscreen is palpable, and the depth of their friendship is wholly convincing. These are friends who bicker, who embrace, and who cry together. It genuinely does make one smile to see Finn and Poe in scenes with one another, and that's down to the convincing love that the pair share. 
Of the aspects to praise, The Rise of Skywalker boasts some terrific visual and special effects. The creature effects from Neal Scanlan and his crew are tremendous. This new trilogy has struggled to live up to its PR material at times, often pushing its much-publicised practical creatures to the spatial and narrative background. That said, The Rise of Skywalker probably fairs the best of the new trilogy, featuring several practical creatures that are allowed to be seen and perform on screen. The denizens of Pasaana, a desert community celebrating a local festival, are a particular sight to behold. The many creature performers, completing rigorous dance routines while wearing convincing animatronic head-pieces, are to be commended and praised.  
For all its narrative flaws, The Rise of Skywalker certainly has its share of individual moments that, while small, undeniably draw a gleeful grin. From cameos of old characters that widen your eyes like the sight of an old friend, to the digital wizardry that comes with the many spaceship battles, the film has memorable moments in bucketloads. However, one wonders if these fleeting moments will continue to hold emotional sway upon repeat viewings.  
For better or worse, The Rise of Skywalker ends the Skywalker story. Although moments of fun and awe persist throughout, I can't help but feel as if there was an effort to "fix" (and I use that word loosely) some of the aspects of Rian Johnson's The Last Jedi that had fans bitterly (and that's an understatement) divided. If indeed this is the case, it's a shame. The Last Jedi was a remarkable and unique new step for this story and for the franchise as a whole. The Rise of Skywalker plays things safe, actively leaning into fan-theories from the last four years and giving a predictable end to the saga. This isn't to say that this isn't an enjoyable film – far from it – but it struggles, at times, to be much more than a greatest hits album with a handful of new mixes thrown in.