KUČKA has announced her debut studio album. It's titled Wrestling and it arrives April 30 via Soothstayer/LuckyMe. The Los Angeles-based vocalist and producer has also shared a new song, 'No Good For Me', alongside an accompanying video directed by Dillon Howl. Check it out below, and scroll down for the album's cover artwork and tracklist.
In a statement, KUČKA described 'No Good For Me' as "a song about letting go of people who don't vibe you up. Writing No Good For Me was about capturing the energy of psyching yourself up to deal with that conflict."
Wrestling follows KUČKA's debut 2015 EP Unconditional as well as a series of singles and collaborations with artists like A$AP Rocky, Flume, and SOPHIE. Check out our Artist Spotlight Q&A with KUČKA.
Wrestling Cover Artwork: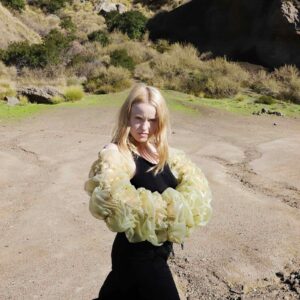 Wrestling Tracklist:
1. Wrestling
2. Contemplation
3. Drowning
4. Ascension
5. Afterparty
6. Joyride
7. Your World
8. Sky Brown
9. No Good for Me
10. Real
11. Eternity
12. Patience