Bowerbirds, the folk project of North Carolina singer-songwriter and multi-instrumentalist Phil Moore, has announced his first new album in 9 years. It's called becalmyounglovers and it arrives April 30 via Psychic Hotline. He's also released the album's first single, 'Moon Phase'. Check it out below, and scroll down for the LP's cover artwork and tracklist.
Formerly a trio, Bowerbirds' last album, 2012's The Clearing, marked the project's final recording with Beth Tacular, Moore's ex–romantic and artistic partner. According to a press release, the new album was recorded in a North Carolina cabin that he and his ex had built by hand.
""Moon Phase" is a song encompassing the end of a long term relationship," Moore explained in a statement. "When it's something you've been in for a while and has become so familiar, you're comfortable with its ebbs and flows, and there can be sort of an uncertainty where you're not sure if it's truly over or not. "Moon Phase" really delves into the uncertainty, or disbelief, and that really specific sadness that comes with an ending."
becalmyounglovers follows a pair of EPs that Bowerbirds released last year, 2020 Singles and Azaleas.
becalmyounglovers Cover Artwork: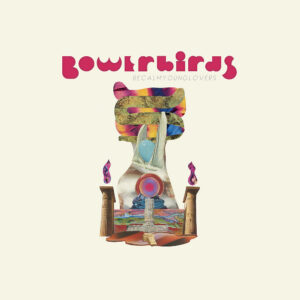 becalmyounglovers Tracklist: 
1. SBSF
2. Seems Impossible
3. Pennies
4. The Rules
5. Revel Revel
6. All This Rain
7. Moon Phase
8. The Party
9. Can U Beleeb
10. Treasure
11. Sweet Dissonance
12. Every Life