Mdou Moctar has announced a new album. The Tuareg guitarist and his band's first full-length release for Matador Records is called Afrique Victime and it comes out on May 21. He's also shared a new single, 'Tala Tannam', alongside an accompanying video directed by Cem Misirlioglu and filmed in Niamey, Niger. Check it out below, and scroll down for the LP's cover artwork and tracklist.
"'Tala Tannam' means your tears," Moctar explained in a statement. "It is another love song of which I'm very fond."
"While the song talks about love, we wanted to show the love between friendships and the love of Niger," Moctar's producer and bassist Mikey Coltun added. "The video includes friends and family—in the Tuareg community in villages around Niamey as well as Hausa people from villages in the Dosso region."
The new album follows Mdou Moctar's 2019 LP Ilana: The Creator. Last October, he shared the single 'Chismiten'.
Afrique Victime Cover Artwork: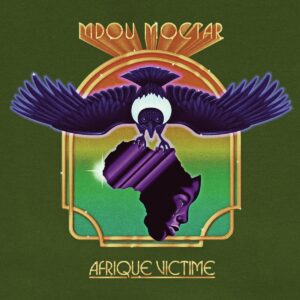 Afrique Victime Tracklist:
2. Taliat
3. Ya Habibti
4. Tala Tannam
5. Untitled
6. Asdikte Akal
7. Layla
8. Afrique Victime
9. Bismilahi Atagah