Armand Hammer (the hip-hop duo of billy woods and ELUCID) and producer the Alchemist have announced a new album called Haram. The collaborative project, which features guest appearances from Earl Sweatshirt, Quelle Chris, KAYANA, Fielded, Curly Castro, and Amani, arrives March 26 via Backwoodz Studioz. Check out the LP's cover artwork and tracklist below.
Last year, Armand Hammer released their third album, Shrines. The new record marks the first time the duo have made an album with a single producer. "This isn't just the genre's most insistent contemporary voices paired with arguably its best producer," the product description reads. "This is when you buy a beautiful house only to discover, hidden behind a heavy bookcase, a stairway twisting up and away into the darkness."
The Alchemist dropped multiple projects in 2020, including a full-length collaboration with Freddie Gibbs, Alfredo, which was nominated for the 2021 Grammy Award for Best Rap Album.
Haram Cover Artwork: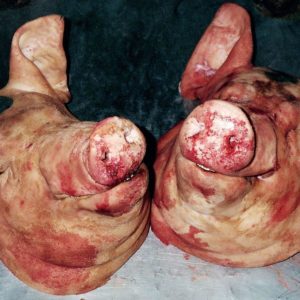 Haram Tracklist:
2. Roaches Don't Fly
3. Black Sunlight [ft. KAYANA]
4. Indian Summer
5. Aubergine [ft. Fielded]
6. God's Feet
7. Peppertree
8. Scaffolds
9. Falling Out the Sky [ft. Earl Sweatshirt]
10. Wishing Bad [ft. Curly Castro and Amani]
11. Chicharrones [ft. Quelle Chris]
12. Squeegee
13. Robert Moses
14. Stonefruit