Cold Cave, the synthpop project led by Wes Eisold, have announced a new EP called Fate in Seven Lessons. The 7-track project arrives on June 11 via Heartworm Press. Today (April 2), the band have also shared a new single from the EP, 'Night Light', along with an accompanying music video. Check it out below and scroll down for the EP's cover artwork and tracklist.
In a press release, Eisold said the new song is about "clinging to love the way people cling to religion and escaping the trappings of time. It's an ode to the light in the dark, and end of the night anthem for everything you wish you said."
Fate in Seven Lessons will include Cold Cave's 2019 single 'Promise Land' and follows their 2018 EP You & Me & Infinity. The group's last full-lenght album, Cherish The Light Years, came out in 2011.
Fate in Seven Lessons Tracklist: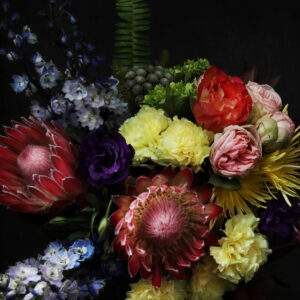 Fate in Seven Lessons Tracklist:
1. Prayer From Nowhere
2. Night Light
3. Psalm 23
4. Love Is All
5. Happy Birthday Dark Star
6. Honey Flower
7. Promised Land