Swedish psych collective Goat have announced a new rarities album, Headsoup, and shared a new track called 'Queen of the Underground'. Spanning the band's career between 2012 and 2017, the album will include standalone singles, B-sides, and two brand new songs. It's out August 27 via Rocket Recordings. Listen to 'Queen of the Underground' below, and check out the LP's cover art and tracklist further down.
Speaking of the new track and album closer, Goat said in a statement: "Who says a rock band can't play funk? Electric guitars can be just as sexy today as when Eddie Hazel funked the shit out of 'em."
Goat released their third studio album, Requiem, in 2016. It followed 2014's Commune and 2012's World Music.
Headsoup Cover Artwork: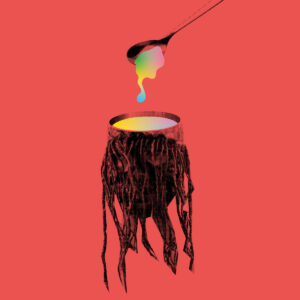 Headsoup Tracklist:
1. The Sun and Moon
2. Stonegoat
3. Dreambuilding
4. Dig my Grave
5. It's Time for Fun
6. Relax
7. Union of Mind and Soul
8. The Snake of Addis Adaba
9. Goatfizz
10. Let it Burn (Edit)
11. Friday Pt.1
12. Fill my Mouth
13. Queen of the Underground