Thyla have announced their debut album. The self-titled record is set for release on January 28, 2022 via Easy Life. Along with the announcement, the Brighton trio have shared a new single called 'Gum'. Check out its Joseph Daly-directed video below and scroll down for the LP's cover artwork and tracklist.
"'Gum' is about shrugging the weight of the world off your shoulders – being stuck, knowing it, and choosing not to care," lead vocalist Millie Duthie explained in a statement. "The world is weird; life is confusing. You're not always going to get what you want, but let's stop talking about it."
Thyla will include the band's January single 'Breathe'. Last year, they shared the Everything at Once EP. Revisit our Artist Spotlight Q&A with Thyla.
Thyla Cover Artwork: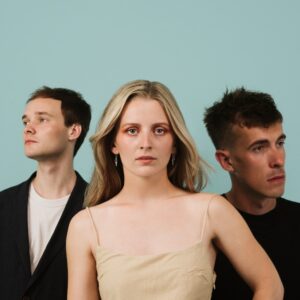 Thyla Tracklist: 
1. Amber Waits
2. Breathe
3. 3
4. Flush
5. Gum
6. Echo For Ingrid
7. Kin
8. Imbude [Interlude]
9. Making My Way Through The Skyline
10. Dandelion
11. Rabbit Hole