Kaina has announced a new album called It Was a Home, sharing a music video for its second single, 'Anybody Can Be in Love'. The LP, which will follow 2019's Next to Sun, arrives March 4 via City Slang. It features contributions from Sleater-Kinney, Helado Negro, and Sen Morimoto. Check out the visual for 'Anybody Can Be in Love', directed by Weird Life Films, and find the album cover and tracklist below.
"'Anybody Can Be in Love' is about letting go and accepting love when it comes to any sort of relationship, romantic or platonic," Kaina explained in a statement. "I've seen myself and my close friends miss out on a really great moment we've wished for or a great relationship because we're so fixated on getting hurt or being fearful. 'Anybody Can Be in Love' is a little reminder to keep it simple and enjoy the moments you've been waiting for. Sonically, I wanted the track to sound very psychedelic and dreamy. Almost like love is taking over and you're just losing yourself in a moment. It was a pleasure working on this with first time collaborator Biako along with Sen Morimoto and longtime bandmate Michael Cantella on bass."
In addition to the album announcement, Kaina has announced a run of 2022 dates that will take her across North America and Europe. You can find her tour schedule below, too.
It Was a Home Cover Artwork: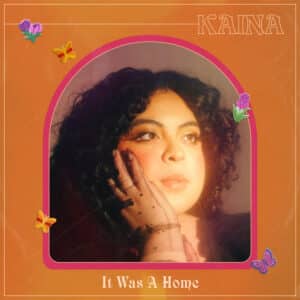 It Was a Home Tracklist:
1. Anybody Can Be in Love
2. It Was A Home
3. Good Feeling [feat. Sen Morimoto]
4. Sweetness
5. In My Mind
6. Ultraviolet [feat. Sleater-Kinney]
7. Come Back As A Flower
8. Blue [feat. Helado Negro]
9. Casita
10. Apple
11. Friend of Mine
12. Golden Mirror
Kaina 2022 Tour:
Mar 5 – Chicago, IL – Metro
Mar 24 – San Diego, CA – House of Blues – Voodoo Room
Mar 25 – Anaheim, CA – House of Blues – Parish Room
Mar 26 – Los Angeles, CA – The Echo
Mar 29 – San Francisco, CA – Brick & Mortar
Mar 31 – Portland, OR – Polaris Hall
Apr 1 – Seattle, WA – Vera Project
Apr 2 – Vancouver, BC, Canada – Fortune Sound Club
Apr 8 – Madrid – Clamores
Apr 9 – Barcelona – Laut
Apr 11 – Berlin – Privatclub
Apr 12 – Hamburg – Häkken
Apr 13 – Köln – Helios 37
Apr 14 – Amsterdam – Paradiso
Apr 15 – Gent – Charlatan
Apr 16 – Paris – Pop Up du label
Apr 17 – Nijmegen – Merleyn
Apr 19 – Brussels – Beursschouwburg
Apr 21 – London – The Waiting Room
Apr 28 – Toronto, ON, Canada – The Drake
Apr 29 – Montreal, QC, Canada – La Sala Rossa
Apr 30 – Boston, MA – Cafe 939
May 3 – New York, NY – Elsewhere Zone One
May 4 – Philadelphia, PA – Milkboy
May 5 – Washington, DC – Songbyrd
May 7 – Atlanta, GA – The Eastern Rooftop
May 8 – Nashville, TN – The East Room