Boston outfit Vundabar have announced their new album, Devil for the Fire, sharing its title track. The LP is out February 11 via Gawk Records. Check out 'Devil for the Fire' below.
"The beginnings of this song came about as I was binge watching film noir and burning through books on neuroplasticity," bandleader Brandon Hagen said in a statement, adding:
The subconscious and subconscious fear is a big theme in a lot of film noir, so I had that on the mind – sequences of abstract and surreal images to convey an inner world that has its own dream logic. Shortly after, my dad had a life-threatening emergency heart surgery and subsequent stroke. I finished the song between visits to the hospital, not knowing whether my dad would survive. The entire thing was surreal; the hospitals in the age of COVID, the looming specter of death hanging over us, the bizarre timing of his accident with what I'd been reading and writing.
Earlier this year, Vundabar shared the songs 'Aphasia' and 'Ringing Bell'.
Devil for the Fire Cover Artwork: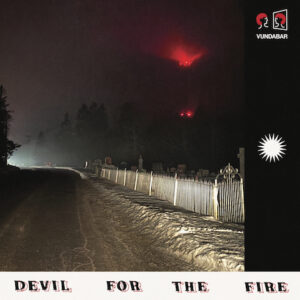 Devil for the Fire Tracklist:
1. Aphasia
2. Ringing Bell
3. Devil For The Fire
4. Lore
5. The Gloam
6. Nosferatu
7. Heat Wave
8. Listless Blue
9. Deep Water