Bridal fashion week occurred very recently and there are many trends to be taken from it. It has a very modern, sophisticated and elegant look. It keeps it original silhouettes as well as more modern tight hugging hour glass dresses. Many designers have stuck with delicate lace and others sheer fabrications.
To check out more information on specific designers and their designs from the bridal fashion week check it out on: http://www.brides.com/wedding-dresses-style/bridal-fashion-week or http://www.vogue.com/fashion-shows/bridal-spring-2018. Images used from Vogue.
Bridal capes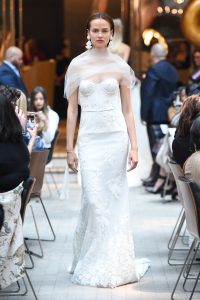 Designer: Sachin & Babi
Bridal capes come in different fabrications and this year it's lace or a sheer fabric. Some plain and some with embellishments. It's good for a slight cover up for a breezy day if you're having your wedding at a garden or outdoors. It also almost looks like an accessory so if you're not into wearing necklaces you can easily get away with wearing a cape.
Black accents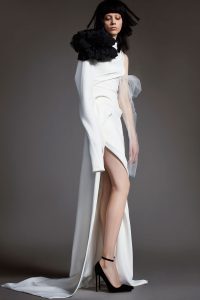 Designer: Vera Wang 
Typically we associate weddings with wearing white or light colours. But Vera Wang challenges this with having black accents as belts or ribbons and in this case what looks like a flower next to the collar. I think this creates a sophisticated look as well as playful and challenging the boundaries of what a wedding dress should be.
Feathers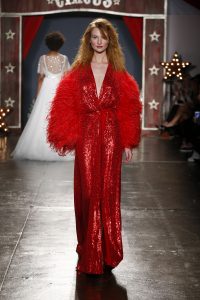 Designer: Jenny Packham
Very light wispy feathers are on trend. I think the lightness of the feathers gives a sense of elegance of movement to the bride. It's also fitting to the season as feathers remind you of spring season, so it would be better worn if it was a garden wedding or somewhere near a garden.
Embellishments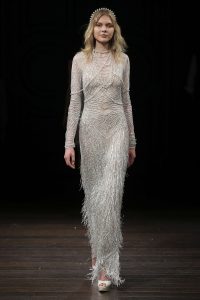 Designer: Naeem Khan
This is a more modern take on wedding dresses with a tight hugging dress as well as adding beads. This looks quite glamorous but not too extravagant. This would really accentuate the brides body.
High collars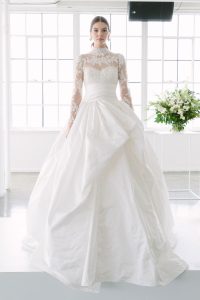 Designer: Marchesa
This reminds me a little bit of street style with the high neck collar but it definitely works with this bridal dress a mixture of lace and fabric. This works because the high neck collar is part of the dress and its decorated with flowers which makes this dress look elegant
Bows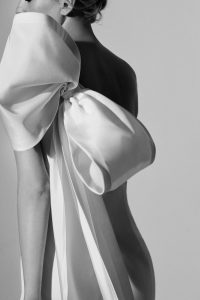 Designer: Caroline Herrera
Big bows are on trend, whether it be on the back of the dress shoulder or even the sleeves of the dress. Most designers who have used bows have very soft outlines that can keep its shape as well as have some sort of a drape. This adds a girly touch to the dress but creates a dramatic look as well.
V necklines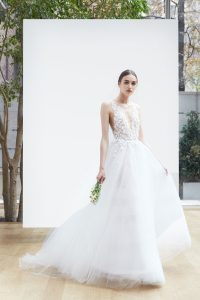 Designer: Oscar De La Renta
There are many designers who have a deep V neckline on their dresses. For those who are more confident and slightly daring this is the kind of dress you are looking for. It has a very deep plunge but has a voluminous skirt which keeps it from being completely daring and keeping the modesty.
Ruffles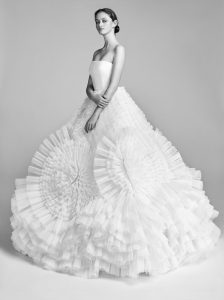 Designer: Viktor & Rolf
If you want added volume to the dress then having ruffles or cascading ruffles is the dress for you. It keeps it's sophistication with a touch of volume. If the dress doesn't have that much volume but you want parts of the dress to have it then an idea would be having cascading ruffles going down the dress.