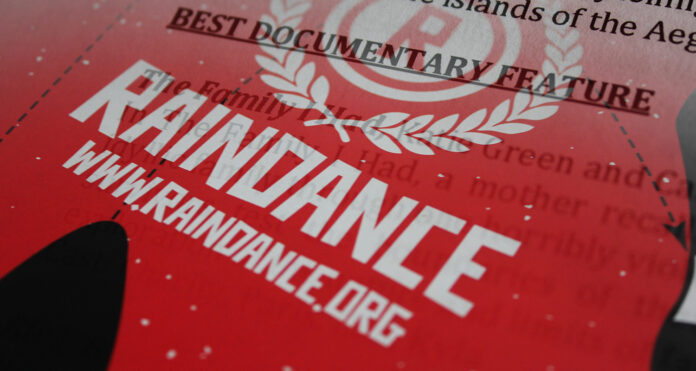 Raindance have once again revealed a fantastic line-up, this time for the Best Documentary Feature award.
The category has shortlisted a total of five terrific films that share five equally unique stories. All of the films will be getting a UK premiere including 'Bluefin' by John Hopkins which will get a European premiere.
The Family I Had – Katie Green and Carlyle Rubin – UK Premiere
In this splendid documentary, a mother recalls how her brilliant teenage son came to shatter their idyllic family through one horribly violent and shocking act. Now, left to pick up the pieces, the survivors test the boundaries of their newly defined reality in the moving true crime exploration of the nature and limits of familial love.
Starring: Charity, Paris, Ella, Kyla
RiverBlue: Can Fashion Save the Planet? – David McIlvride and Roger Williams – UK Premiere
RiverBlue follows internationally celebrated river conservationist Mark Angelo on an around-the-world journey by a river that uncovers the dark side of the fashion industry. Infiltrating one of the world's most pollutive industries, and speaking with fashion designers and water protectors worldwide, RiverBlue reveals stunning and shocking images that will forever change the way we look at the clothes we wear.
Starring: Jason Priestley
On Yoga: The Architecture of Peace – Heitor Dhalia – UK Premiere
On Yoga: The Architecture of Peace is based on Michael O'Neill's book of the same name. This project tells the story of the 10 years the author spent photographing Yoga's great masters. By posing very human questions from our current perspective, and mixing it with elements of movement and experiential sound, the film results in a new view of the art of Yoga.
Starring: Michael O'Neill, Edie Stern, Deepak Chopra, Mooji, Elena Brower
Bluefin – John Hopkins – European Premiere
Endangered giant bluefin tuna have returned to Prince Edward Island, Canada in surprising abundance after a disappearance from overfishing. But something strange is going on. With stunning cinematography, filmmaker John Hopkins's acclaimed documentary explores the mystery of why normally wary bluefin tuna no longer fear humans and turning into pets.
Starring: Dr. Carl Safina, Brian Skerry, Dr. Boris Worm, Capt. Jamie Bruce, Capt.Jeff MacNeill
Speak Up – Stéphane de Freitas and Ladj Ly – UK Premiere
Every year, at the University of Saint-Denis, a competition is held to decide "The Best Orator in the 93". Any student can participate and many prepare with the help of professional advisors. Armed with new-found knowledge, Leïla, Elhadj, Eddy and the others face off in a bid to become the best orator in the 93.
Starring: Leïla Alaouf, Souleïla Mahiddin, Eddy Moniot, Elhadj Touré