On the 10th of July 1983, cinema lost one of its unsung heroes. Culture waved goodbye to a man who had single-handedly produced some of the most sublime and iconic creations of science-fiction. Unfortunately, this man has scarcely received the recognition and respect that he so richly deserves. That man was Paul Blaisdell.
Blaisdell was a special-effects and makeup artist who worked predominantly for the now-defunct American International Pictures between the mid-1950s to the early '60s. Without the luxury of generous budgets or lengthy production schedules, Paul was nothing short of a miracle worker.
Faced with intimidating deadlines and producers more interested in how cheaply a film could be made than anything else, Blaisdell's untouchable work ethic consistently drove him through potential chaos. Single-handedly, Blaisdell produced props, monster suits, monster masks, miniatures and more for AIP's seemingly endless list of titles made for the teenage drive-in demographic. Whereas effects artists on 'A' movies (or at least films with budgets greater than that of AIP's output) had the advantage of readily-available resources, the circumstances of Blaisdell's employment often forced Paul to rely on his own ingenuity. Tackling titles like Day the World Ended (1955), It Conquered the World (1956), The She-Creature (1956), Invasion of the Saucer Men (1957), and The Amazing Colossal Man (1957), Paul's creative flair helped elevate these films far beyond what they could have been. Reasonably, many of the films Blaisdell worked on can be criticised and their merits challenged, but Blaisdell's work seems to stand separate from the films they appeared in. Say what one may about the slow pace or bland performances in The She-Creature, one is taken aback by how marvellously imposing the titular femme-ferocious appears. Affectionately named 'Cuddles' by her creator, the She-Creature is one of Paul's most memorable creations – and one of his own personal favourites.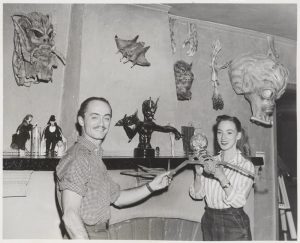 The late Randy Palmer authored the biography on Blaisdell; Paul Blaisdell, Monster Maker (1997). Brimming with incredible notes on Blaisdell's personal life, his earliest film ventures, and his eventual disappearance from the industry, Palmer's book sheds a much-needed light on the life and career of an artist almost forgotten by cinema history. Lovingly written, it is bittersweet seeing a glimpse of Blaisdell's brilliant personality (a man who always seemed to retain a good spirit and sense of humour) whilst reading of how AIP eventually cast him aside, and of how cancer sadly overwhelmed him at 55.
Blaisdell began his journey into fantasy producing wonderful science-fiction art pieces for a variety of genre magazines. Helping to get his work out to publishers was literary agent Forrest J. Ackerman – who would go on to edit the wildly successful Famous Monsters of Filmland magazine. In the meantime, the American Releasing Corporation (that would go on to become AIP), headed by James H. Nicholson and Samuel Z. Arkoff, was gearing up to produce its own line of cheaply-made science-fiction fare for the lucrative teenage market. Nicholson, the more artistic of the pair, would draw up larger-than-life film titles to draw investor interest. An attractive advertising campaign would then be assembled and only then would a script actually be written and the film itself actually made. Such was the case with the fantastically-named The Beast with a Million Eyes (1955). The fabulous poster depicted such a monstrosity, but no such creature ever appears in the final film. As exhibitors began to complain of the distinct lack of a beast (a million eyes or otherwise), director Roger Corman realised that something – anything – needed to be added to make the film at least somewhat faithful to its title. Corman turned to Ackerman, with his many links to the film industry, to recommend any effects artists. Ackerman recommended both Ray Harryhausen and Jacques Fresco, both of whom were well outside of Corman's intense budgetary limitations. Aware of his model and puppet-making hobbies, Ackerman offered the job to Blaisdell. Intrigued, Paul agreed to look over the script, and after a call to Corman to flesh out what he had to achieve, he took up the challenge.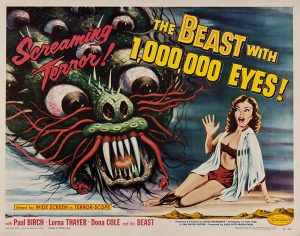 Setting to work with preliminary sketches, Paul and his wife, Jackie, began construction of a miniature alien model that could emote and move. Nicknamed 'Little Hercules' by Paul and his wife, the 18" tall extra-terrestrial serves as the strongest point in the film's favour. Although The Beast with a Million Eyes is arguably a bad film, with its drawn-out scenes and confusing plot implications, Paul's alien menace is admirable – especially given the immense constraints put upon him. 'Little Hercules' had impressed Roger Corman enough that he assured Blaisdell that he'd give him a call whenever he was working on another science-fiction picture. As it turned out, that call wasn't far away, as Paul was quickly brought in to not only construct, but also perform as, an atomic mutant in 1955's Day the World Ended.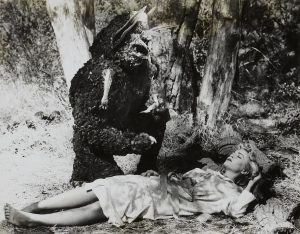 Although the budgets of the films Paul worked on remained low, the following pictures were at least of higher quality than The Beast with a Million Eyes. In constructing (and often performing as) reincarnated She-Creatures, Venusian invaders, and scowling Saucer Men, Blaisdell found near-constant employment with American International throughout the decade. Blaisdell's creations remain some of the most striking of the slew of cinematic nightmares from the 1950s. The big-brained, bug-eyed aliens from Invasion of the Saucer Men arguably define the quintessential alien invader aesthetic. Additionally, although not used how Paul had wanted (or had been told), the Venusian vegetable from It Conquered the World has a brilliance even if only in how wonderfully weird it is, whilst the intimidating visage of the primordial predator from The She-Creature is nothing short of inspired.
As long as this article brings Blaisdell's work to the attention of a few, then that is something. For his sheer genius in overcoming frightening odds, Paul's work deserves to be recognised. Even if one were to vehemently criticise the films in which his work appears, Paul Blaisdell himself is long overdue the respect and admiration he did not receive during his lifetime. An article such as this cannot cover the splendour of a person's life in such a short time, so a read of Randy Palmer's superb book is recommended.
To Paul, thank you for the cherished cinematic memories.