On l Off select top emerging designers to showcase their collection to press and others who are attending London Fashion week.
This year for the selected designers to showcase their Spring Summer 18 collection are Luke Rooney, Jack Irving and CAPLANENTWISLE. 
CAPLANENTWISLE kicks off the show with an almost all white outfit from the trench coat and an almost sheer dress with very high slits on the side reaching the models hips. It is paired with knee high socks, jelly sandals and what looks like a pillow bag.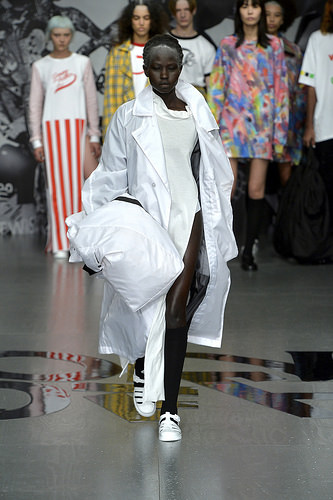 The rest of the collection is vibrant and full of colours, both bright and pastel colours. One of the looks are from plaid fabric and the other print. The plaid outfit almost looks like the outfit from the film "Clueless" just that the length of the jacket is longer and has a big collar Rever.
The next show was Luke Rooney, he has some interesting designs, playing with shape and colour blocking and using loose dresses, play suits and jumpsuits as the main canvas to work on.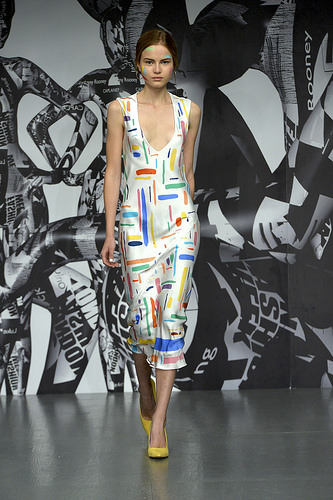 This dress looks amazing, I love how the colours are different sizes, lengths and widths. This looks like something to wear in spring like on a brunch. The fabric looks like it could be satin so perfect for the warm weather when it feels cool next to the skin. I love the scoop neck line it looks like it will keep everything in place with no nip slips.
These styles are also interesting, one style with coloured embellishments and the other with blocks of colours curving around the skirt. It definitely adds more design to these garments since we see them usually plain.
Last but not the least, Jack Irving with his finale Avant-garde collection. Starting the collection is this model in a metallic bodysuit with thigh high boots with a headpiece.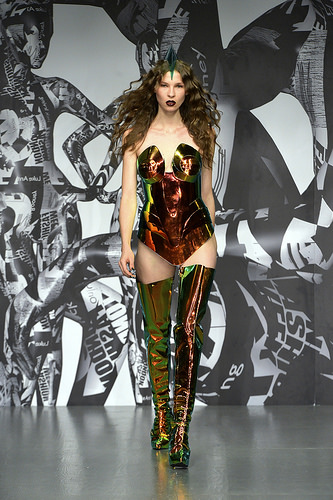 As the show progressed the garments got more extreme and bigger!
As a designer I am intrigued how this was created and put together. As the models walked past you can hear the fans inside the garments and I am intrigued how that was made. Overall, this is a great ending to the show so fascinating and extreme, but well put together.
Here is the full collection from CAPLANENTWISLE.
Here is the full collection from Luke Rooney.
Here is the full collection from Jack Irving.