Tom Hegen, a photographer and designer from Munich, Germany, joined us for an interview to talk about his latest series THE SALT SERIES PART II and what is next for him.
Hi, how are you?
Hi there, thank you for having me featured on your site. Thanks, all fine!
We want to dig into your history a bit. How did you get into photography and where are you from?
I am a photographer and designer from Germany. I focus on aerial photography projects that show the interventions of man in natural environments. It all started when I visited an exhibition back in 2015 to the suggested term Anthropocene. It's a proposed term by a board of scientists for a new human area. Scientists around the world are recognizing, that we as humans have such a strong impact on the geological, ecological and atmospheric processes on earth that we became the most impacting force on our planet. I wanted to access this topic with my own visual language and to start drawing attention to environmental relevant issues to hopefully inspire people and to make a difference to our planet. I also started to question the term landscape as known from landscape photography. Land is actually a word of Germanic origin and the roots of the suffix -scape, German -schaffen refers to the verb shaping. So landscape in a sense of landscaping refers to an activity that modifies the visible features of an area. As a consequence of that, I started seeing landscape photography of documenting places influenced by human rather than landscape photography as showing pure, unspoiled nature.
So, how did THE SALT SERIES PART II come about?
I have spent about two weeks in Western Australia exploring different geological areas, coastlines, and mining sites. The main reason flying to Australia was for focusing on mine sites, like gold mining, aluminium mining and salt mining. Australia is a stunning country, rich in natural resources. Often those areas are exploited by man. THE SALT SERIES II is actually an extension to the first part, which also focused on the intervention of man in natural environments. The salt flats in Western Australia are very unique in terms of color and shape and I wanted to show a new perspective on this topic.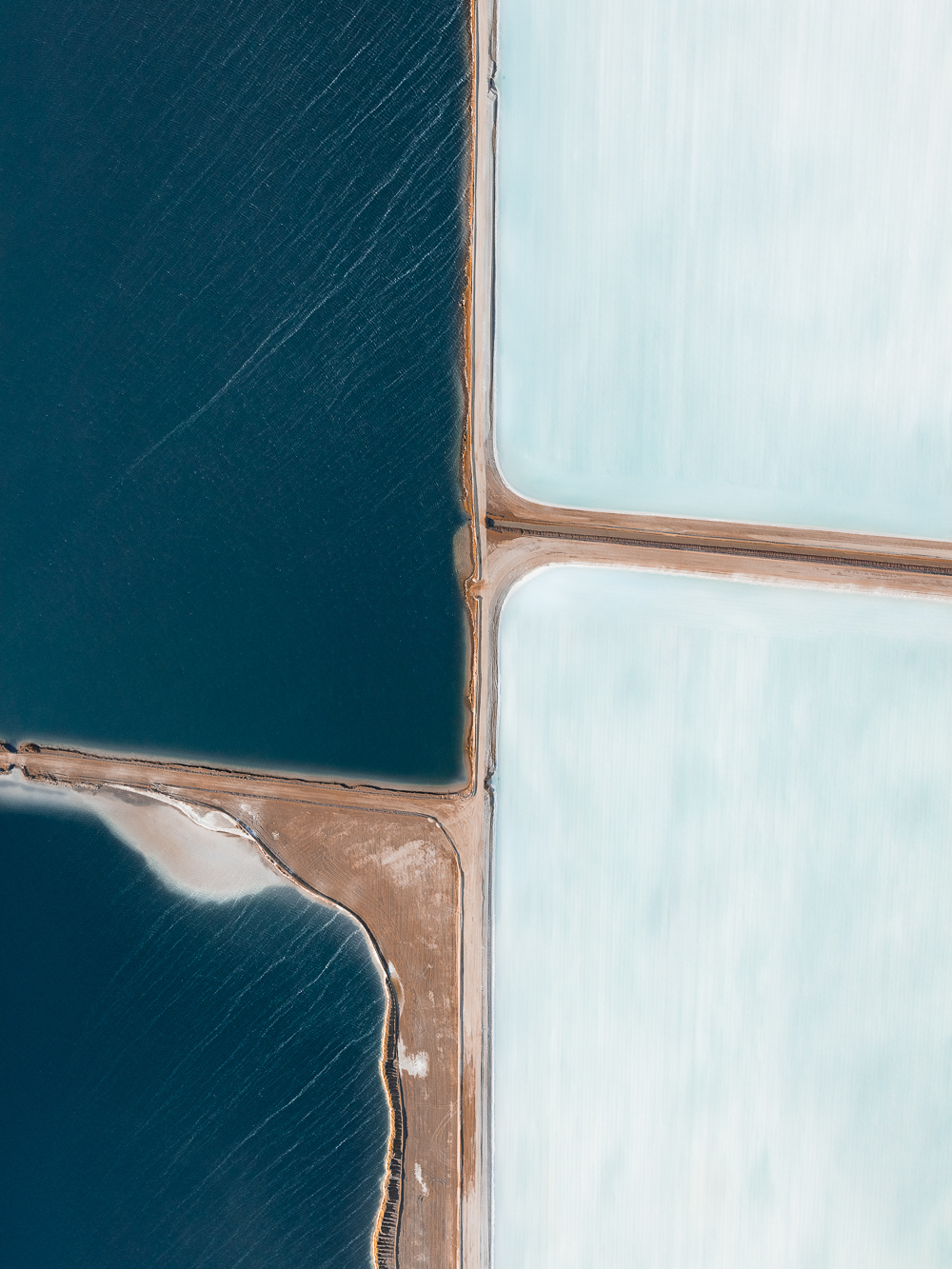 What were the challenges of making the series come to life?
This series was shot from a small airplane. Taking photos from an airplane can be quite challenging as the aircraft moves very fast. Imagine shooting out of an open window of a moving car with 150km/h, with a 200mm zoom lens and try to capture an animal in 500-meter distance. It's something like that. What really is important is the communication between the pilot and me. He really needs to know what shot I would like to get and I need to tell him in the right moment when to tip the airplane. Taking this series was very much teamwork. On the other hand, aircraft are extremely flexible and can usually go much higher than helicopters or drones. For this series, I wanted to be really high up to get the photos from right of the top, having no perspective in the photos. In this way, the photos appear mainly flat, almost like a painting.
Do you have any major influences or people that inspired this series to happen?
I draw my inspiration from classic painters like Mark Rothko. My aerial photography is often reduced to an absolute minimum and abstraction in man-made landscapes. I see the surface of our earth as an artwork, designed by a human (sometimes in a positive way, sometimes in a negative way), however, I see all human beings as designers of our planet. I see myself as a sort of framer, framing the artworks of the earth's surface with my camera.
What do you have planned next?
In the last months, I have been working on a concept for a new book. It will also be about aerial photography and human intervention in the environment. But this time I would like to experiment a little with new media. It's going to be a long term project for the next one or two years. So let's see what happens next.
The final question I ask everyone. What is your definition of culture?
The memories, feelings and habits, people share together.
You can find more work by Hegen on his website and his Instagram page.