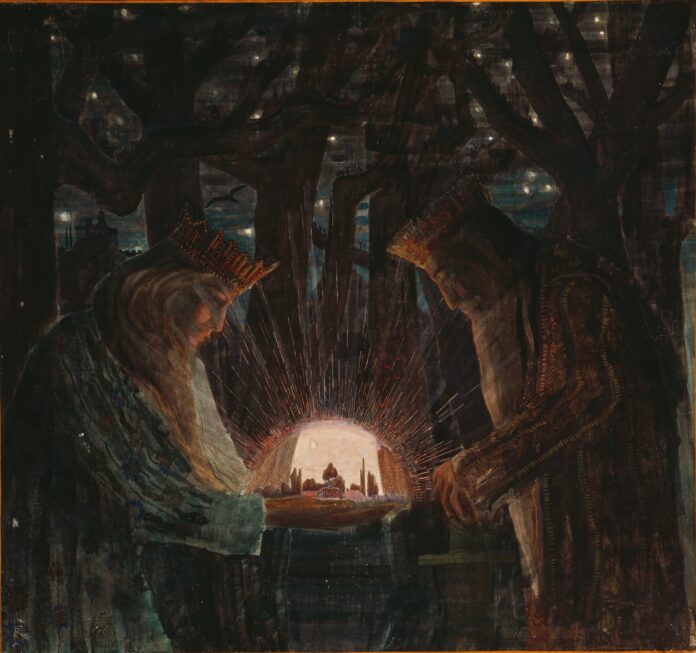 Čiurlionis is considered to be one of the most important artists to come out of Lithuania. Born in a small town of Varėna, eldest of nine children, Čiurlionis grew to become a key figure in the development of Abstract art in Europe. Moreover, Čiurlionis possessed great talent in music and literature, having composed several hundred compositions and written many literary works.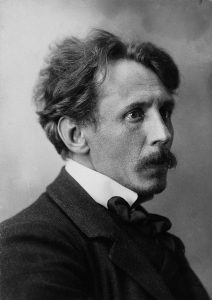 In popular culture, Čiurlionis has been the subject of 2013 film Letters to Sofija, directed by Robert Mullen. In the film, Čiurlionis was played by his great-grandson Rokas Zubovas who is a respected pianist and well-known for his loyalty to the works of Čiurlionis. The film went on to win best costume design at the Lithuanian Film awards.
In his 1909 painting, Fairy Tale (Fairy Tale of Kings), Čiurlionis depicted two kings, one holding a sword, and the other holding a farmstead in his hands. Both kings are displayed looking at a village-like scenery, which is also importantly the only source of light in the painting. Fairy Tale is believed to reflect the influence Čiurlionis took from Lithuanian folk culture and arts that primarily derived from villages and countrysides. In many ways, it still is the beating heart of modern Lithuanian art.