In this weekly segment, we review the most notable albums out each Friday and pick our album of the week. Here are this week's releases:
Album of the Week: Clairo, Immunity
Clairo may have established herself as the biggest name in lo-fi bedroom pop, but if you've been following her rise since her 'Pretty Girl' YouTube clip went viral in 2017, you know she's been slowly reinventing herself and straying from the admittedly limiting label of an internet sensation. Produced by Rostam Batmanglij of Vampire Weekend fame, the 20-year-old singer-songwriter's debut album is not only everything a longtime fan could've hoped for, but also a perfect introduction to Claire Cottrill for casual fans who've only been following the buzz surrounding her from a distance. Immunity may be polished to the point that there's nothing lo-fi about it, but it earns your attention with its hushed vulnerability and composed lushness, like listening to the intimate confessions of a close friend. The opening cut 'Alewife' sees Clairo opening up about a time a friend saved her from committing suicide, while even poppier tracks like 'Closer To You', with its sleek bassline, are just as heartfelt and personal in nature as the stand-out closer 'I Wouldn't Ask You'. Emblematic of Clairo's new sonic approach, 'Bags' combines glimmering synths and a solid guitar line to evoke the wonderful complexities of wanting to feel comfortable with a new partner (Clairo says the track is about one of her first romantic experiences with a girl), while 'Sofia', with one of the strongest hooks on the album, playfully approaches the subject of sexuality by touching on celebrity crushes. Clairo mentions Sofia Coppola as one of them, which is fitting: Clairo's debut would be the perfect indie-pop soundtrack to a Coppola coming-of-age film.
Rating: 8/10
Highlights: 'I Wouldn't Ask You', 'Alewife', 'Bags', 'Sofia'
Ty Segall, First Taste
Ty Segall has always been one to change up his sound, but making an album without the electric guitar is something no one quite expected. The two seem to go hand in hand. And yet not only is that exactly what the prolific psych rocker attempts on his 12th studio album First Taste, he also pulls it off remarkably well by utilizing instead other string instruments like the bouzouki, koto, mandolin, electric omnichord, mouth horn and more. Make no mistake: First Taste offers the kind of maximalist, fuzzy, electrifying garage rock that has made Segall one of the biggest and most reliable names in the genre; it doesn't get much heavier than the stand-out opener 'Taste, the fast-paced, fiery 'The Fall', or the off-the-wall 'I Worship The Dog', whose climactic horns are reminiscent of late-period Swans. But there's also quite a bit of variety here, from the surprisingly poppy 'Radio' to the ethereal ballad 'Ice Plant' to the refreshing string instruments that guide most of the otherwise pretty familiar tunes. It's a wonder how Segall does just enough to experiment and push his sound forward while still keeping true to the rock n' roll spirit that so many blues rock bands nowadays only go as far as to nostalgically emulate.
Rating: 8/10
Highlights: 'Taste', 'Ice Plant', 'I Worship the Dog', 'Self Esteem', 'Radio'
Tobi Lou, Live on Ice
Chicago-raised, LA-based rapper tobi lou had a pretty busy 2018, releasing three distinct projects, and now he continues his streak with his first full-length, 77-minute, 22-track debut album. He's hyped it at as a truly ambitious project: "People go crazy for Lion King, but go even crazier for Lion King On Ice, and I feel like that with this project," he explains. The comparison would feel silly were it not for tobi lou's deliberately cartoonish aesthetic: "I feel like a cartoon," he declares on 'Ice Cream Girl'. Live on Ice rides along with familiar hip-hop trends; its worst elements are the tirelessly ever-present trap hi-hats and the redundant and often goofy ad-libs. But the album benefits from utilizing a soulful Chicago sound consisting of wonderfully organic electric guitars and breezy keys that sound like the better cousin of a lo-fi hip-hop background beat. These summery, laid-back rap lullabies and low-key bangers do start to overstay their welcome as the album progresses, however. A big bunch of the tracks feel like forgettable filler designed for Spotify playlists, especially as some of lou's bars come off as less than fleshed-out and often quite cheesy ('Humpty Dumpty', 'Like My Mom'). He still has a long way to go, but he's got something going for him.
Rating: 6/10
Highlights: 'Cheap Vacations' (feat. Facer), 'Smiling at My Phone', 'Waterboy', 'Sometimes I Ignore You Too'
Francis Lung, A Dream is U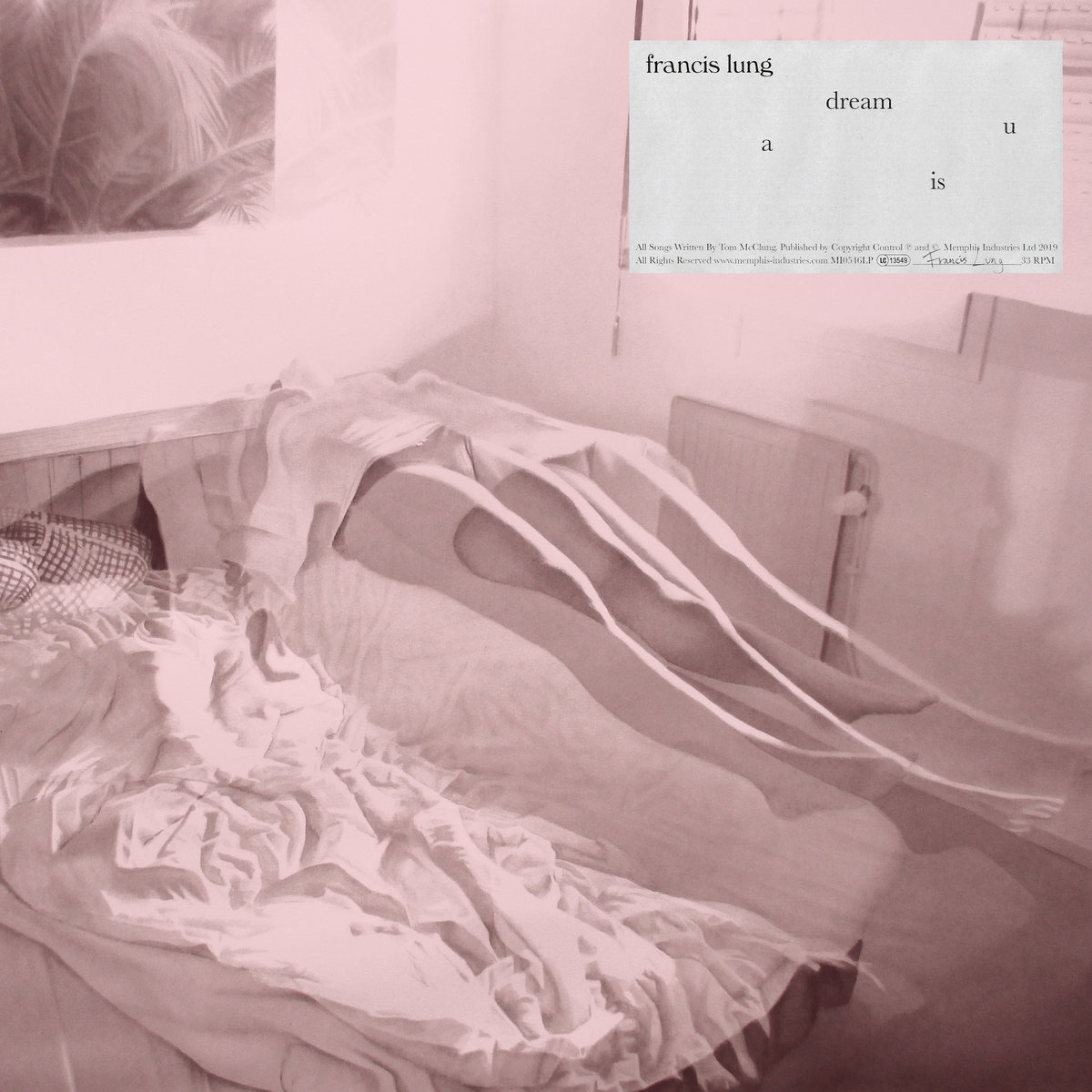 Francis Lung was a member of the band Wuf Ly, one of those British indie rock band that make waves and earn rave reviews with their debut album but disappear shortly after. Now, Lung has released his first solo album with the promise of sounding "like a short Mancunian boy single-handedly trying to incite Beatlemania". He somehow doesn't fall short of that – the synths on 'Unnecessary Love' are uncannily reminiscent of 'Strawberry Fields Forever', while opener 'I Wanna Live My Dreams' and 'Up & Down" have more of a joyous Beach Boys vibe. But unfortunately, this nostalgia often comes at the expense of the kind of originality that his previous band was praised for, and makes the record feel quite stale at times. Still, Lung's talent shines best on the album's most introspective and quiet moments, like the heartwarming 'I Do Believe in U', the lush 'Invisible' or the piano-led 'Comedown', which are a testament to the fact that Lung doesn't need to throw his influences entirely out the window to create something evocative and quite beautiful.
Rating: 6/10
Highlights: 'I Do Believe in U', 'I Wanna Live in My Dreams', 'Comedown'