Dario Argento's Suspiria (1977) is not a film that should be remade. It's a film that should be watched, and enjoyed, over and over again, because it does get better every time. An abstract, surreal, melodramatic, vivid, gorgeous excursion into horror, dance, and the occult, with an incredible soundtrack and, of course, Jessica Harper. Suspiria is dripping with artistic excess and does so in a way that isn't obnoxious or dreary, but is, instead, magnetising to watch. Thrilling, funny, and, most importantly, weird. If you haven't seen it, change that right now – Argento's work isn't for everyone and, if I'm honest, this is as good as it gets. But Suspiria was, and still is, utterly groundbreaking.
Enough with the preamble. Suspiria (2018) is absolutely stunning.
The trailer may have had the fine colour palette of wet cement and yes, I did spend the first 15 minutes actively trying to remind myself that this film isn't Suspiria but deserves to be watched with an open mind. When those 15 minutes were up, however, the film had this strange effect of making me forget who I was before I started watching it and hooked me fiercely with those sleek silver hooks its central coven so delightfully wields.
Luca Guadagnino's Suspiria, I think, operates entirely on the understanding that it cannot be Argento's Suspiria – and therefore, does not try to be. It's different, very different. It builds on the aspects of Suspiria that Argento glances over in favour of visual potency. The patchy script and rickety narrative that is pretty typical of classic Giallo is cherry picked in this latest version for a nuanced, (and still visually and artistically brilliant) in depth character study, and a sharp narrative about the fickle, ravenous hunger of beauty and art.
This is where we run into the vicious paradox of horror remakes. Make something too similar to the original and fans will hate it. Make something too different, and they'll hate it too. Remakes are gonna happen folks, that's just the sad truth of the film industry – names and nostalgia make money, even if they're sold out. The team behind Suspiria 2018 knew this, and worked with it. It's a film inspired by the '77 classic – and if you make a film inspired by another without crediting it, we all see that it's been ripped off. So, call it Suspiria, deal with the outrage head on, and make the film you want to make as good as it can be.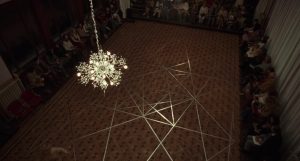 So, where Argento brands the look of Suspiria directly into your mind, Guadagnino sets to unravel the meaning behind it more intimately. Dakota Johnson's Suzie Bannion has drive and desire, curiosity and want. From her Amish background to the heart of Madame Blanc's (Tilda Swinton) avant-garde Markos Dance Company, she learns and develops willingly, and we do so with her. Suspiria is unrepentantly feminine, violently feminine, and there's ownership in that of an industry – on the screen and in the real world – that eats the kind women the film uplifts and paints, alive. It's that core that makes the film's witchcraft so potent – in it's shrieking, cackling, riotous, independent coven, perhaps we see a glimpse of what has made men so afraid of women for thousands of years. Good, it's about time. Much like Robert Eggers' The Witch, at its heart, Suspiria is freeing.
It's the central connections between these women that make Suspiria so magnetic to watch. Tilda Swinton is, as ever, just excellent – and there's such subtle beauty and hurt in the bond her Madame Blanc has with Johnson's Suzie, over what is most important to them both – art, and the truth at the heart of it. Suspiria has a remarkably diverse cast and shockingly, every single character is treated with respect, and the subtle intimacy that gives this film its power. In all its strangeness, the world portrayed within feels incredibly real, because it is laced with love, and fury.
This film is also a proud testament to the life-changing power of art. Madame Blanc puts the sanctity of her creation, the art that freed her, that gave her a voice, (that could give you a voice, too) above all else – as well as seeing it as the living, breathing, transformative thing it is. Where Mother Markos seeks only to own and preserve, Blanc, perhaps like the director, seeks to give the art and the people who see it, the chance to be all it can be.
I haven't even mentioned the film's superb use of red, or it's brilliant minimalist score, or the vocalised percussion that grabbed me from first listen. Mother of Sighs indeed. Another entirely magnificent vein etched from the briefest detail in the original. Or, in fact, the exceptional special effects work, the jaw dropping choreography, and, the axe it raises to patriarchy and fascism.
It's absolutely bloody brilliant.