Dasychira carries you through the deepest parts of the unconscious. The New York-based, South Africa-born experimental producer's debut LP, xDream, melds haunting soundscapes, enchanting vocal snippets, and scribbly electronics that glide through the uncanny valley of childhood memories, across the cloudy intersection between dream and nightmare. In the true Freudian sense of the 'unheimlich', xDream feels familiar yet unfamiliar, deeply unsettling yet accessible, as it captures the way our childhood self appears distant and unreachable yet constantly present in our desire to reconnect with that original state of purity. Both through their visuals and music, Dasychira has a knack for repurposing cultural artifacts such as video games and cartoon characters to evoke the mind-numbing chaos of trying to reconcile with that divided self, like on 'Mickey', which creepily samples the classic Disney character saying "no such thing as monsters" before hitting us with a nightmarish assault on the senses, or 'Skitty', which takes the adorable feline Pokémon it's named after and seemingly turns its harmless meowing into tortured screams, enveloped by Chinese artist Yikii's bewitching lullaby-like vocals. But beyond subversive abrasiveness, there's also a lot of beauty to be found on the record, from the elegant strings on 'Swirl' feat. Malibu to the entrancing melody that drifts atop the dynamic electronic textures on the title track. On xDream, Dasychira uses experimentation not just as a refreshing musical tool but as a vehicle for deep personal introspection. It's a rewarding musical journey that'll take you to some strange, mystical places.
We caught up with Dasychira for this edition of our Artist Spotlight series, where we showcase up-and-coming artists and give them a chance to talk a bit about their music.
What inspired you to start making music, and how do you think your style has evolved since then?
The symphonic fairytale Peter and the Wolf. It's a rare example of a living, breathing piece of music that invites you to explore a world of characters in between a dream and a nightmare. I was captivated by how the narrative is woven with the instrumentation and paints a vivid picture in the imagination. Like when you read a book and imagine what the tea kettle looked like, or the scent of rotting tulips. My approach of writing music has evolved from telling stories with instruments alone, to fleshing out the journey by incorporating text and poetry. Conjuring a fully extra-sensory experience in the mind of the listener. 
How would you describe your sound? 
A ghoulishly scribbly, electronic mesh of memories and premonitions. The closest classification for me is scribblecore or keepsakecore. 
There are a lot of interesting visuals surrounding your music. How do they come about, and what role do they play in your work?
Working with visuals is a spontaneous process where I have to grab something I notice before it's gone forever. Like writing down a dream before you forget it, when I hop into the abyss of internet subcultures like Snapchat ghost sightings and DNA cell music I immediately bookmark them to reference later. It's like a collector's mindset of creating a library of inspirations that all meld together to form a clearer image of the musical creature I have in my head. The movement of visuals creates a gravity that pulls this elusive musical essence into something relatable and interactive. 
Could you talk to us about the unseelie collective? How was it formed and what is it about?
unseelie started to take shape toward the end of 2017 when QUALIATIK and I returned from our tour of Northern America, feeling excited to start doing more, locally, in New York. Sentinel was coming up from Baltimore to do shows more frequently, and after organizing a night together we wanted to shine a light on music and art that felt almost too secret for how magical and original it was. Kodi Fabricant came up with the name unseelie in reference to mischievous woodland faeries, and we started out by inviting artists who shared this spirit of playful expression to showcase their work in a gentle forum. Ever since, our platform has evolved from live performances to digital releases – with the brilliant SA Mayer making contributions to the platform.
In 2020 unseelie is:
ஃ celebrating the timeless collective library of imagination
ஃ celebrating the souls that sing and dance around the fire
ஃ celebrating what magic still remains in this world
What were some of the ideas that fuelled the creative process behind your latest project, xDream? 
xDream grew from the ghostly presence of a childhood memory lurking in the depths of my subconscious. This phantom was born when its fluid aura was suffocated by the external preconceptions of binaries around us. There was a time in all of our lives where we could see beyond our own skin and feel closer to the spirit that controls the mech body that determines all too much of our future. When you're taught to morph your conscious understanding of what's right and wrong, what's real or not, what's you or what isn't based on how those who've lost touch with it view us, the essence of ambivalence in identity is compromised. I didn't realize it back then, but I had exiled a big part of myself in the dark behind me, which was locked away and buried in a time capsule. xDream is the key that opens the lock, and once the memory banks come flooding out – all you can do is face the intensity of past-selves. I remember feeling so overwhelmed by this feeling on a flight from New York to Amsterdam I started to compose pieces of the title track mid-air over the atlantic, that was almost two years ago.

How would you say it's different from your previous releases? 
It's the most self-disarming record I've made, where instead of trying to construct an armor around the essence of something I wanted the essence itself to be the armor. I wanted to let my day to day life become a part of the music by taking the time to just live through the waves of personal transformation and digest what the message meant for myself. There's a lot more sentimentality in each sound that can be traced back to a story or moment in time, for example the crackling vocals on Toon World are ripped from the audio of a glitchy FaceTime call with SA Mayer, the smashing metallic sounds on Retribution Bee are from these mechanical gates at a warehouse in Gowanus where we had our most ambitious UNSEELIE, the meow toward the end of Mickey is Bushwick's cutest feline, Aubrey. 
What was the process behind the making of your music video for 'xDream'?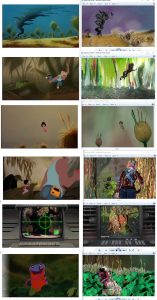 After meeting Awe Ix at the Quantum Natives Grace Nexus show in New York we spoke about collaborating on a video that reinterpreted an existing world. I saw the video he made for Wa?ste that used 3D scans of Pokémon-esque characters that he found at a night market in Taipei. I had recently revisited a classic film from my childhood, Fern Gully, this Australian animated film that inverts the myth of humans and faeries with the fairies believing humans aren't real, until one day a fairie discovers a lumberjack in the woods destroying a forest. Awe Ix was particularly interested in working with Disney's technique of "recycled animation", where they use frames of previous films and animate slightly different sequences over them. Awe Ix went over a huge portion of the movie, frame by frame, in his own style. This video was originally meant to be for a different song but since the process was so specific and tedious we extended the timeline to have it on xDream. It took around 2 years to complete but it couldn't have turned out any better, there's a lot of easter eggs hidden in the video too. 
What are your plans for the future?
To daisychain all the fragmented pieces of the psychic realm by creating more interactive work and bridge the connection between internal kin and otherkin. I have the vinyl for xDream coming out on the 24th, a music video coming up for Swirl we shot at El Matador beach in Malibu, a super cute toy, and some other surprise eggs. I'm excited to play in every context I find myself in and find new outlets of expression. A close friend once told me that every making leads to another making.