There are almost too many things to love about Sex Education, the Netflix coming-of-age show that stormed its way into our hearts early last year and recently returned for an equally hilarious and heartfelt second season. Its imaginatively colourful setting – a fictional British village infused with elements of late-twentieth-century American culture; its refreshingly progressive attitudes on sex; its deliriously modern sense of humour; and, perhaps most of all, the way it combines the characteristically raunchy, biting style of comedy that one might find on other Netflix shows like Big Mouth and The End of the F*cking World with a genuine heart that's pretty much unparalleled in the genre.
Ultimately, though, what makes this show so binge-worthy and delightful to watch is its diverse cast of compelling characters. A lot of teen shows, even when they do their best to approach adolescence with honesty and realism, end up neglecting another important ingredient of good storytelling: compassion. The creator of Sex Education, Laurie Nunn, captures the joys and frustrations of these characters without looking down on them or having to compromise on the invigorating ambition and zaniness of the show, because she clearly comes from a place of empathy – a paradoxically challenging perspective for a writer, given that having been a teenager is pretty much the one thing all adults have in common. Nunn also wrote the show in part to make up for the lack of discussion around sex she witnessed growing up, and so it's no surprise that the characters' almost surreal openness about sex feels liberating rather than tactless or parodic.
For a show whose comedic premise rests on teenagers intimating their most embarrassing sexual vulnerabilities, including "I'm really freaked out by bumholes", it's a relief that none of them are ever the butt of the joke. On Sex Education, the boggling perplexity of sex is something to poke fun at. That of adolescence is not. Now, one might argue that the show is by no means the only comedy that takes its teenage characters seriously; and indeed, in recent years there has been an increasing amount of sweet, intimately-drawn coming-of-age stories that have graced the big screen, from The Edge of Seventeen to Eighth Grade to Booksmart. But Sex Education takes that refreshingly modern attitude and applies it to the TV series format in a way that no other show has done as successfully. The medium allows the creators the necessary space to paint compelling, dynamic portraits not just of its protagonists, but also of the entire, remarkably diverse cast of characters – thus encouraging viewers to sympathize with perspectives other than that of the straight white nerdy kid at its center.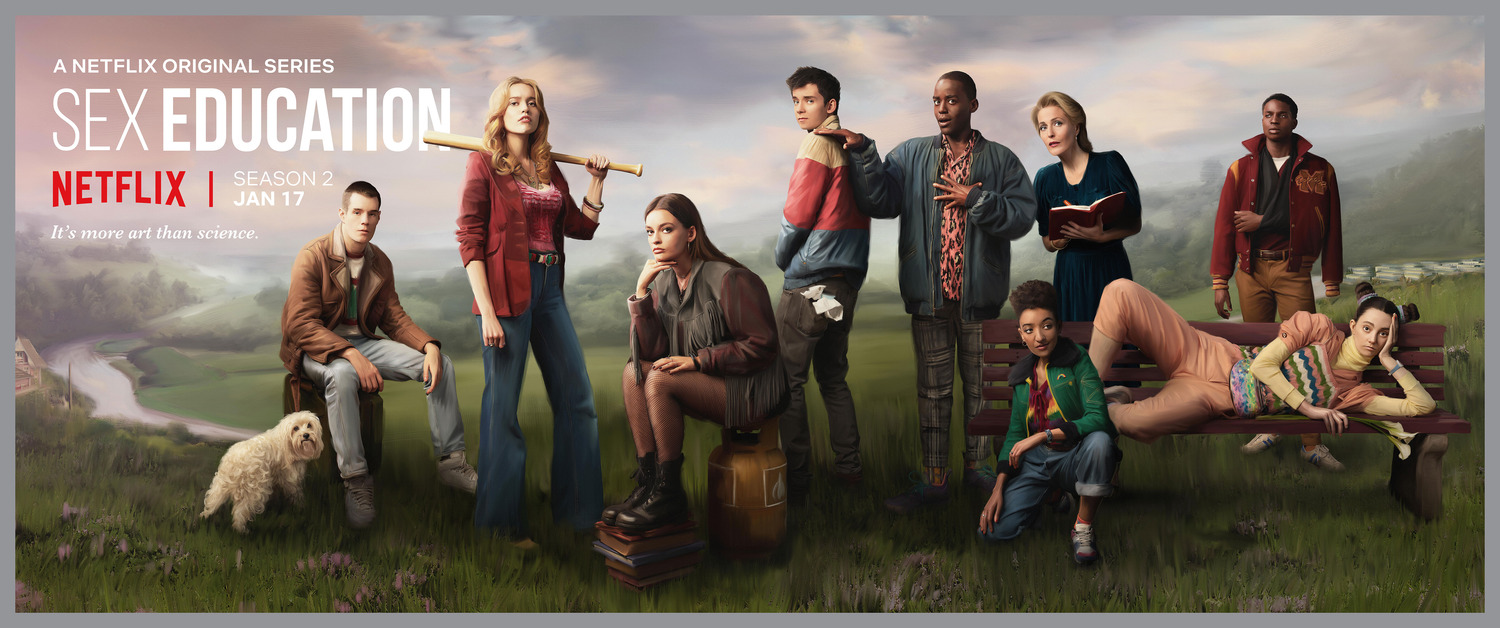 Of course, Sex Education takes plenty of cues from other cultural touchstones. John Hughes' films were obviously a big influence, so much so that there's even an episode that directly borrows from The Breakfast Club where all the girls must stay in detention until they find one thing they have in common ("Other than unsolicited penises, not much," they conclude.) And the show shares a lot with its natural predecessor and edgier alter ego, Skins – a British dramedy that offered an uncompromisingly sobering look into the dark sides of adolescence, oscillating between realism and escapism. While both shows can be seen as revolutionary in their truthful yet creatively audacious depiction of the lives of a distinct set of troubled young adults, where characters on Skins sometimes felt distant in their outrageous recklessness, the ones on Sex Education always feel close to us, even at their most extreme. And they certainly don't feel as derivative or overdramatized as, say, the ones on the last season of 13 Reasons Why.
What's perhaps most remarkable about Sex Education is the fact that it stands out as a refreshing and rare achievement while very much adopting familiar character archetypes: from the socially awkward white protagonist, to the gay best friend, to the rebellious girl, to the popular sports kid. But rather than blindly embracing them, the show manages to transcend these tropes, either by subverting them or enriching them through unique, compelling character arcs. Take the show's protagonist, for example: on the surface, Otis (Asa Butterfield) seems like the kind of instantly likable good guy – "non-threatening like a Care Bear", as one of his 'patients' describes him. But the creators make it painfully clear that he's very much a flawed character who's not incapable of doing wrong, especially on season two, where you get pretty close to hating him. But you don't, because it doesn't feel like the writers are purposefully exploiting the character for the sake of drama – rather, it's a natural progression of the narrative, a narrative that delves into difficult internal conflicts and growing familiar frustrations that fester without being resolved. And let's not forget that his whole schtick revolves around giving sex advice to pretty much everyone in the school – not exactly something that fits his archetype.
Then you have Maeve Wiley (Emma Mackey, echoing Effy from Skins), Otis' partner in crime, who represents the ubiquitous cool bad girl archetype. Though Maeve is characteristically tough and badass, that's not what defines her character, and neither is her bookishness or independence, which is as far as most shows would be willing to go. What makes Maeve one of the most captivating teenage characters in recent memory is the incredible nuance that makes up who she is as well as the vulnerability and kind-heartedness that lie behind her façade, which surpasses even that of supposed empathy expert Otis. Mackey wonderfully captures the deep-rooted sensitivity of her character, which manifests itself affectingly on season two, whether she's confronting her relationship with Otis, her mom, or the all-consuming "depth of her aloneness". There's a unique complexity to Maeve that easily overcomes the perceived superficiality of the archetype she embodies.
Then there's Eric (played superbly by newcomer Ncuti Gatwa), Otis' shamelessly outgoing best friend, who has one of the most heart-wrenching arcs on the show. For a character who ostensibly fits a lot of the stereotypes of a gay TV character, his intensely riveting storyline reveals the multi-dimensional nature of his personality. At no point does the conflict he faces in season two, where he's caught between the promise of a seemingly ideal relationship and the complicated sexual dynamic that arises when his ex-bully comes back in town, come off as carelessly exploitative or melodramatic – rather, it feels genuinely thoughtful and ground-breaking in its boldness. And the considerable amount of screen time afforded to his ex-bully, Adam (Connor Swindells), serves to humanize the character without blindly redeeming him or excusing his actions.
But where the second season of Sex Education truly excels is in giving its secondary characters not just time in the spotlight but also equal consideration, further broadening the representational diversity of the show – not just in its inclusion of underrepresented voices, but also in the way it allows them to grow. Ola (Patricia Allison) is a prime example of this, as she goes from being a kind of characterless obstacle standing in the way of Maeve and Otis' relationship to someone who not only claims her own agency but also comes to explore her own queerness – a process which, up until this point, had only been explored through the familiar lens of someone feeling deeply ashamed rather than liberated by that discovery. The colourful animated segment accompanying Ola's newfound sense of sexual freedom wonderfully demonstrates that there's more than one way of coming to terms with one's sexuality, and the fact that it's more a consequence of her overall character arc rather than the only thing that defines it speaks to the strength of the writing. On the other end of the spectrum, one might argue that the mention of asexuality in one episode, however unexpected, feels grossly underdeveloped – almost implying that there's more exciting narrative potential in writing about pansexuality than asexuality – but, in the writers' defense, there's only so much that can fit into one season.
The themes explored on the show aren't limited to romance or sexuality, either. Jackson's (Kedar Williams) mental health struggles as he attempts to grow out of the role assigned to him by his parents and reinforced by his peers, for instance, is one of the most harrowing storylines of season two, while the introduction of Viv (Chinenye Ezeudu), his new tutor, acts as an opportunity to explore newfound friendships in an inspiringly heartfelt manner (let's just hope the creators don't force them into coupledom in the future). Maeve and Aimee's (Aimee Lou Wood) relationship is another example of the show placing emphasis on the value of teenage friendships, as Maeve bravely stands by her side and guides her through the process of reporting a sexual assault incident. Aimee's arc speaks to wider societal issues around sexual misconduct without coming off as pandering or preachy; instead, the creators remain true to the specificity of the character, resulting in what is perhaps the most empowering and resonant storyline of the season – one that concludes beautifully with an 80s-inspired scene set to the magnificent tune of Sharon Van Etten's 'Seventeen'.
Notably, it's not just teenagers who have compelling storylines – where other teen shows either demonize or satirize adults (if they acknowledge their existence at all), Sex Education is particularly inventive on that front. Otis' mom, Jean (Gillian Anderson), is not just a comically overprotective mother who is obsessed with observing and controlling the sexual life of her son, which initially seemed to be the premise of her character. Rather, she becomes a fully-fleshed character who must eventually challenge her own ideas about sex and relationships when Jakob (Mikael Persbrandt) enters her life, and season two reveals the intricacy of her character in ways that are excellently conveyed by Anderson. She also helps another character, Adam Groff's mother (Samantha Spiro), in reclaiming her sexual autonomy, thus suggesting that discovering one's sexuality isn't something that's limited to the age of young adulthood, but a lifelong process.
And indeed, what's funny about season two is that the adults act a lot more like stereotypical teenagers than the teenagers themselves do; from Jean's fits of anguish to, most tellingly, Principal Groff's (Alistair Petrie) perpetual stubbornness and increasingly erratic emotional outbursts. Adolescence here refers less to a specific developmental stage than a made-up cultural signifier. And ultimately, what Sex Education teaches us through its varied storylines and heterogeneous perspectives is that adolescence is not some sort of fixed process that's experienced by everyone in exactly the same ways – rather, it's a fluid construct that's continuously and reflexively redefined by the individual. Once stripped of our ideas about adolescence as shaped by decades of bad – but also good – cultural representations, we see those characters in a completely new light, which is precisely why the show feels like such a breath of fresh air. It's not that these characters don't go through the familiar struggles of adolescence; but any sense of a common lived experience is only a consequence of their unique individual stories, not the other way around. By creating nuanced, honest portraits of its characters, Sex Education dispels myths around adolescence and allows them to shine for what they truly are – and it's only through this acknowledgment of difference that they can find what unites them. And it's more than just unsolicited penises.