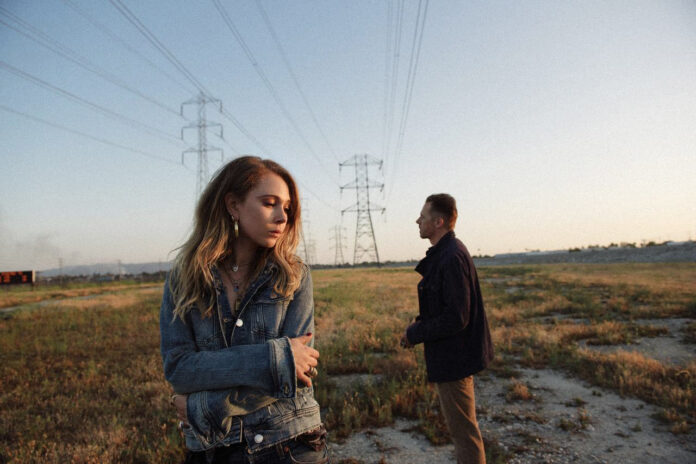 "I just don't see you being a cog in a big machine" – Theo Ross (Simon Pegg)
Films have the ability to transport us to fantastical realms, to spaces and places that appear aesthetically and narratively detached from our reality – worlds that feel completely unlike our own. But they also can root us in the harshest and grittiest of realities, unsympathetically displaying depictions of suffering, social anxieties and complex subject matter. Katharine O'Brien's directorial debut, Lost Transmissions, is one such film, offering an intricate, honest and poignant portrayal of characters dealing with mental illness. It's a beautiful, indie melodrama that is, in more ways than one, far from being a cog in a big (cinematic) machine – a breath of fresh air in an industry that, at the present time, is becoming (thanks to all-encompassing monopolies and post-broadcasting platforms) even narrower.
Inspired by a true story, Lost Transmissions begins with Hannah (Juno Temple), an aspiring Los Angeles pop-songwriter, meeting Theo (Simon Pegg), a gifted record producer, at a party where she's summoned to sing, whilst he plays the piano. This is A Star is Born without the glamour and amorous passion. As the pair bond, it becomes increasingly apparent that their friendship is a mutually beneficial relationship: whilst Hannah gains a chance to write for pop superstar, Dana Lee (Alexandra Daddario), thanks to Theo's guidance, it surfaces that Theo is a schizophrenic, who needs Hannah's help after he stops taking his medication because he feels it's a "shame to live life with a filter over it". As her career begins to take flight, Theo's conditions starts to deteriorate – which is unaided by a pitiable, mental healthcare system and his painfully unhelpful and inept friends. Through helping Theo, Hannah begins to confront her own problems with anti-depressants and wavering emotions but, as she does so, she begins to question whether she's illogically assisting an unstable individual that she doesn't really know and issues that she herself doesn't fully comprehend.
Perhaps the most poignant and heart-wrenching moment comes when Theo, not taking his medication, is in the car with Hannah and he begins to play with the car radio, turning up the volume and stating that "if you listen really carefully, you can hear the transmissions" and patterns that are permeating beneath the static and between the stations. It's a sequence that also typifies where the film really shines: Pegg's performance. Estranged from the distinctive comedic performances that we associate with Pegg (his starring roles in The Three Flavours Cornetto Trilogy or as Benji in the Mission Impossible film series to name a few), he seems to truly find his feet as a natural dramatic actor – in a manner akin to Adam Sandler's outstanding, performative shift in Uncut Gems. It's a true testament to his skill in this film that as Theo suffers, we, as audience members, suffer with him. Pegg manages the complexity of portraying a character dealing with schizophrenia with delicacy and I, for one, couldn't help but be captivated.
Temple's Hannah is equally compelling and she handles the nuances of Hannah with care but, in many ways, she gets overwhelmed and (sadly) outshone by Pegg's vulnerable performance – though that's not necessarily a fault of her own (its more that Pegg's portrayal is wonderful). The same, unfortunately, can be said for Daddario whose part is fleeting and her ability is somewhat wasted.
Beyond those performances, the film's second and third act don't match its compelling and promising opening and consequently the narrative tends to dwindle and, towards the end, falls flat. Similar to Temple and Daddario's performances, we can't help but want and, based on the opening, expect more. Whilst the conversations are meticulously written and you do feel for the characters, the narrative just never gets to where you want it to go. It promises so much but the payoff is, to an extent, lacklustre.
Whilst Pegg offers a compelling and nuanced performance that is simultaneously refreshing and heart-breaking, Lost Transmissions, frustratingly, fails to keep the pace that its first act promises. Though O'Brien handles the complexities of schizophrenia and mental illness with care and the film feels like an inspirational take on dense subject matter, it doesn't altogether realise its potential. It's not entirely lost in its own transmission, just not quite there.