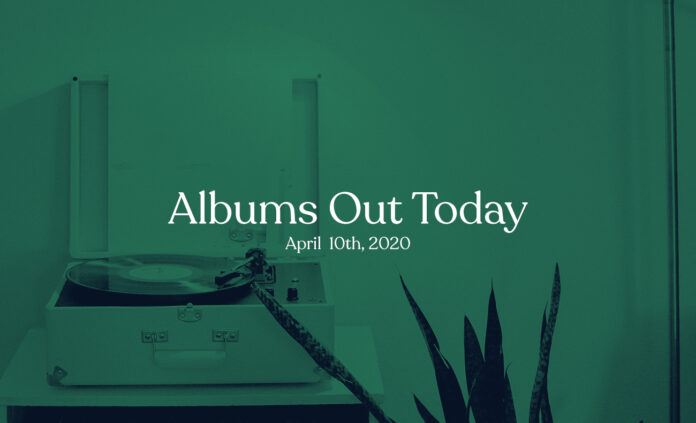 In this segment, we showcase the most notable albums out each week. Here are the albums out on April 10th, 2020:
The Strokes, The New Abnormal
The Strokes are back with their sixth studio album, The New Abnormal, out now via Cult and RCA Records. Following 2013's Comedown Machine, it marks the rock band's first album in seven years and their first release since the 2016 EP Future Present Past. The album was produced by Rick Rubin and recorded at his Shangri-La studio in Malibu, California,  and was preceded by the singles 'Ode to the Mets', 'At the Door' and 'Bad Decisions', the latter of which debuted live at a rally for Democratic presidential candidate Bernie Sanders. The artwork was taken from the 1981 Jean-Michel Basquiat piece Bird on Money.
Laura Marling, Song for Our Daughter
Announced earlier this week alongside the single 'Held Down', singer-songwriter Laura Marling has a new album out titled Song for Our Daughter. The follow-up to 2017's Semper Femina, released through Partisan/ Chrysalis, wasn't originally intended to see the light of day until later this year, but Marlin decided that she "saw no reason to hold back on something that, at the very least, might entertain and, at its best, provide some sense of union". She continued: "It's strange to watch the facade of our daily lives dissolve away, leaving only the essentials; those we love and our worry for them. The album, stripped of everything that modernity and ownership does to it, is essentially a piece of me, and I'd like for you to have it. I'd like for you, perhaps, to hear a strange story about the fragmentary, nonsensical experience of trauma and an enduring quest to understand what it is to be a woman in this society."
Nightwish,

HUMAN

. :

II

: 

NATURE
Nightwish have come through with their follow-up to 2015's Endless Forms Most Beautiful, titled HUMAN. :II: NATURE, via Nuclear Blast Records. The metal band's ninth studio album is a double LP, with nine tracks on the first disc and one long- eight-part song on the second. It marks their second album with singer Floor Jansen, who took over for Anette Olzon in 2012. "Tuomas once said that whenever he creates a new record he has the intention of capturing something rare and unique, a monument and a true album experience," Nightwish said in a statement. "In 2020 he's certain to achieve his objective once again. We have completed the recordings for their 9th studio album and are proud to announce the title, artwork and track listing."

The Dream Syndicate, The Universe Inside
This is the third studio album in four years from krautrock and electronic music pioneers The Dream Syndicate. The band reunited in 2017 with the release of How Did I Find Myself Here?, with the current lineup consisting of Along of founding singer and guitarist Steve Wynn, founding singer and guitarist Steve Wynn, founding drummer Dennis Duck, bassist Mark Walton, guitarist Jason Victor and keyboardist Chris Cacavas. The album includes the 20-minute single, 'The Regulator', which is "a microcosm of the entire record — it was just a formless, trippy mass as we all started playing together," as described by Wynn. The album was largely improvised and recorded during an 80-minute studio session. "All we added was air," Wynn said.
Other albums out today:
Joe Satriani, Shapeshifting; Sparta, Trust the River; Hamilton Leithauser, The Love of Your Life.