Father John Misty has announced he will be releasing a new EP tomorrow (July 3) via Bandcamp. It's titled Anthem +3 and will include covers of Leonard Cohen's 'Anthem' and 'One of Us Cannot Be Wrong', as well as Link Wray's 'Fallin' Rain' and Yusuf / Cat Stevens' 'Trouble'. Check out the EP's cover art and tracklist below.
Coinciding with the platform's monthly 24-hour waiver of its revenue share, proceeds from the EP will be donated to CARE Action and Ground Game LA. In addition to being available on Bandcamp, the EP will later be released on streaming services on July 14 via Sub Pop/Bella Union.
Anthem +3 follows the release of a surprise live album called Off-Key In Hamburg back in March, which was recorded at the Hamburg Elbphilharmonie venue on August 8, 2019. His last studio LP was 2018's God's Favorite Customer. 
Anthem +3 EP Cover Art: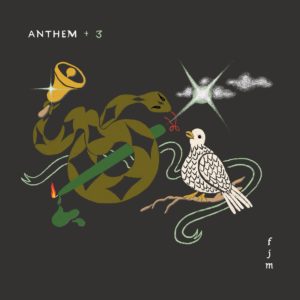 Anthem +3 EP Tracklist:
1. Anthem (Leonard Cohen cover)
2. Fallin' Rain (Link Wray cover)
3. Trouble (Yusuf / Cat Stevens cover)
4. One of Us Cannot Be Wrong (Leonard Cohen cover)