On 26th June, stop-motion artist Cressa Maeve Beer uploaded a short film. Coming Out features Godzilla beginning to notice something about their child, Little Godzilla (Godzilla's offspring from 1994's Godzilla vs SpaceGodzilla). Little Godzilla comes out as trans, and the King of the Monsters sees and celebrates his daughter's wonderful personhood. The short is warm and affectionate, openly affirming of transgender youth and wrapped in the brilliant guise of Toho's icon. It also took the internet by storm.
As of July 2020, Coming Out has over 30,000 views on YouTube, over 21,000 retweets on Twitter, and has been viewed over 32,000 times on Instagram. It even garnered the attention of the official Godzilla channels, with both Legendary Pictures and Toho's Official Godzilla Twitter account retweeting the film.
Our Culture is proud to present this interview with Cressa, who kindly sat down with us to talk about her film, how she got into stop-motion, and the importance of trans-affirming content.
Cressa, thank you so much for talking to Our Culture! Please introduce yourself for our readers.
It's an absolute pleasure! Hi Our Culture readers, I'm Cressa. I'm a stop motion animator and video producer, with work ranging from music videos, documentaries, and brand campaigns, to PSAs screening in front of your film at your local Alamo Drafthouse. I like tea, books, and I never grew out of my dinosaur phase. With my personal art, I like creating a sunny patch for people to lay in when they need it most, and it coincides with my advocacy for the Trans community.
How did you get into stop-motion animation?
When I was little, I was obsessed with stop motion; Wallace and Gromit, Harryhausen, and this show on PBS called Long Ago and Far Away, which featured tons of stop-motion shorts from around the world. I was also very obsessed with LEGOs. I would take my parents' VHS camcorder (an admission that probably gives away my age) and attempt to replicate the frame-by-frame shooting style to make my characters move, eventually making teeny tiny short films about Indiana Jones-esque adventures or rip-offs of comics or anime. I didn't do much with it until maybe 2015 when I received the Godzilla figure I now use in all my shorts from NECA, and just started playing around again. I started posting what I made online and eventually was contacted by an old dear friend, Ryan Oestreich, to create pre-show bumpers for Cinepocalypse Film Festival, which prompted me to start taking this stuff more seriously. Soon I had enough experience and momentum to quit my day job and devote my time fully to my original childhood passion – an opportunity for which I'm exceedingly grateful.
Your recent stop-motion short has taken social media by storm. What was your inspiration?
The inspiration was personal. Right now everyone's social media timelines are filled with both explicit and implicit hatred for Trans people – whether it's this god-awful administration reversing healthcare rights or moving to discriminate in housing, or a certain famous children's author using her platform to further vilify women. In response, I wanted to put art out into the world that was tender and positive. Since I'm a Trans woman myself, I also wanted to make something that I personally would want in my feed. I'm happy it resonated with so many others, and not just solely within my community – the response has been overwhelmingly positive, and I'm receiving emails and DMs from strangers (cis and Trans both) who were personally touched by it or wanted to share their own story. I even had a kid who had been questioning their identity for a few years tell me that my short was what made them feel comfortable enough to come out to their parents – that leaves me speechless.
And actually, there's a second piece of inspiration: my dad, who I lost relatively recently.  He was the one who introduced me to Godzilla when I was little, and then our last conversation ended up being my coming out to him as Transgender. He was suffering from dementia, but in that conversation, his mind somehow pushed through, and his response was one of love and support. Not a day goes by where I don't want him to see me now, as the real me, so this short is in a way dedicated to his memory.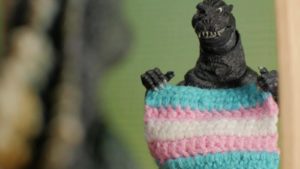 How does it feel having official Godzilla channels (like Legendary's twitter) sharing the short?
It leaves me sick with joy, and I wish I could go back in time and show this to the sad, scared child I used to be. Godzilla's original creators, Toho, haven't ever really taken a stance on anything LGBTQIAP+ related, so to have them not only support a Trans story from a Trans creator, but to share it far and wide during this time feels like real recognition – I suppose what it means to feel 'seen'. When you also consider how toxic the Western/English fanbase can be, this was pretty bold.
But on the flip side of the coin, it's easy for a big company to share a video on social media and hashtag support for a marginalized community – it's another thing for that company, especially one in entertainment, to make it a point to start hiring or including Queer and Trans artists/actors/directors/characters/etc. So I'm beyond grateful, but I'm also hoping it's only a first step and not the full extent. 

What has Godzilla been for you?
I fear it'll sound too vague or dramatic when I say that Godzilla has helped me survive multiple times. When I was little, watching all of the 'vs.' movies, Godzilla was a protector, a mythological symbol of resilience, a force of strength that would endure when nothing else could. As I got older, I learned more about the monster's origins as a walking metaphor for nuclear holocaust, and how that metaphor has evolved to mean something different depending on which film in the 30+ catalogue you watch: climate activist, anti-bully, force of nature, allegory for Fukushima, alpha predator, superhero, supervillain, on and on and on. But for me personally, Godzilla will be the strength that I wish I had.  It's silly, but the ending of 1995's Godzilla vs Destoroyah really affected me when I first saw it: Godzilla is melting down, but continues to fight until a final roar of defiance – only to be reborn, silhouetted on the horizon. The moment was beautiful to me: the idea that your old self can burn down, but then you can rise back up again anew.
Over the series' 60+ year history, Godzilla has always been a tool to address cultural and social changes. How does it feel to contribute to that rich legacy?
Well, first of all, I'm exceedingly flattered that a short animation of monster action figures can be considered a contribution to a legacy! It's like having someone you've admired your whole life turn to you and say "I'm a fan of yours in return" – it's validating and empowering. Moreover, Godzilla was never gendered in Japan, but the English translations masculinized everything from the get-go – and, culturally, we in the US seem stuck in a false binary view of gender that defaults male. In a very conscious way, my short softly prods at that notion. So if I am contributing anything to Godzilla's legacy, I hope it's in a way that's expanding viewpoints and opening hearts. Godzilla means something different to everyone, and that should actually mean everyone.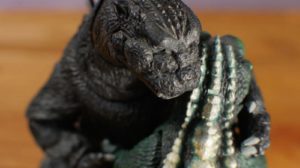 What's next for you on the horizon?
I'm raising money for Black Trans causes, I have a big list here: https://linktr.ee/beeragon. Viral videos of Trans acceptance aside, we're in the midst of a cultural revolution, and Black Trans lives are still the most attacked and persecuted just for existing. The first steps to cultural and societal reform is economic reform – providing equity and resources that aren't just about survival, but thriving.
How can our readers follow/see your work?
I'm most active on Instagram and Twitter, where my handle is @beeragon and then I have a website that houses more of my non stop motion work: beeragon.org
We cannot thank Cressa enough for this interview. We ask our readers to check out Coming Out, and to support the causes that Cressa has highlighted.