The Mountain Goats have revealed details for their second album of 2020: Getting Into Knives comes out October 23rd via Merge, according to the band's Bandcamp page. Below, check out the new track from the LP, titled 'As Many Candles As Possible', and scroll down for the album's cover artwork and tracklist.
The 13-track LP was produced, mixed, and engineered by Matt Ross-Spang and recorded at Sam Phillips Recording in Memphis, Tennessee between March 1–6, with assistance from Wesley Graham. The cover art was designed by Daniel Murphy.
"If I told you all how much fun we had making this one you wouldn't even believe me but we hope it comes through," reads a statement from the band. "Dedicated to the secret priests of the Bell Swamp, those oracles of Brunswick County, wizards of Winnabow, night lords of the thousand acres: whose domain yet grows, may its borders encompass the sky and all beyond."
Getting into Knives will mark John Darnielle and company's 19th studio album, following on from this year's Songs for Pierre Chuvin, which was released in April.
Getting Into Knives Cover Artwork: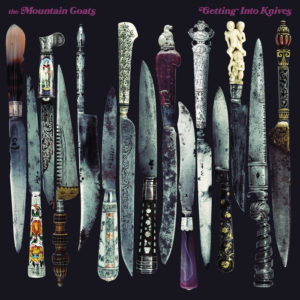 Getting Into Knives Tracklist:
Corsican Mastiff Stride
Get Famous
Picture of My Dress
As Many Candles As Possible
Tidal Wave
Pez Dorado
The Last Place I Saw You Alive
Bell Swamp Connection
The Great Gold Sheep
Rat Queen
Wolf Count
Harbor Me
Getting Into Knives