Marie Davidson & L'Œil – the newly formed trio of Marie Davidson, Pierre Guerineau, and Asaël R. Robitaille – have announced their debut album Renegade Breakdown, out September 25 via Ninja Tune. They've also shared the album's title track, alongside a lyric video created by Greg Barnes. Check it out below, and scroll down for the album's cover artwork and tracklist.
Davidson and Guerineau, who are married, have previously worked together as a duo under the moniker Essaie Pas, but this marks the first time they've collaborated on a full project with Asaël R. Robitaille. "We wanted to make songs, like the music we've been enjoying altogether for more than a decade," Davidson said in a press release.
Davidson's last album was 2018's Working Class Woman.
Renegade Breakdown Cover Artwork: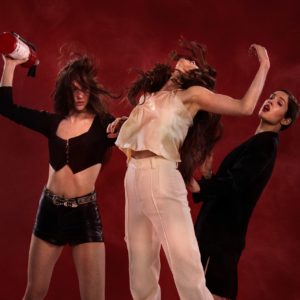 Renegade Breakdown Tracklist:
1. Renegade Breakdown
2. Back to Rock
3. Worst Comes to Worst
4. Center of the World (Kotti Blues)
5. La Ronde
6. C'est parce que j'm'en fous
7. Just in My Head
8. Lead Sister
9. My Love
10. Sentiment