Barcelona indie rock outfit Mourn have announced a new album: Self-Worth comes out October 30 via Captured Tracks. The band, now a trio following the departure of their drummer Antonio Postius last year, have also unveiled a new song titled 'This Feeling is Disgusting'. Check it out below, and scroll down for the album's cover artwork and tracklist.
"This album gave us what we needed: self-worth, the desire to go forward, to love ourselves, with everything, with the good and bad," the group wrote in a press release. "This album empowers us."
About the new single in particular, they explain: "The song is really about fear of the future, being anxious about what's going to happen, not knowing if you're going to be able to earn a living or not. It's a really happy song, but one that represents being stressed out. The idea of "I don't know if I'll be able to afford an apartment any time soon, but hey, let's dance and have fun!" That's the concept behind it, and that's what I was thinking about while writing the lyrics."
They add: "I also thought about my parents, and everyone's parents. They often have high expectations for you, or they want a certain lifestyle for you, and you don't always agree with that. So you try so hard to do life your own way, but you're super stressed out and you're scared, and every now and then you think "Is it worth it?" In the end, I think it's worth it."
Mourn previously previewed the LP with the single 'Call You Back'. Their last album was 2018's Sopresa Familia.
Self Worth Cover Artwork: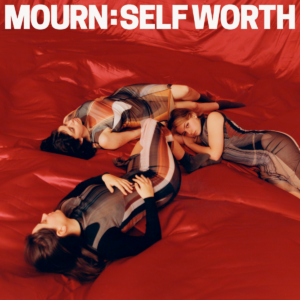 Self Worth Tracklist:
1. This Feeling Is Disgusting
2. Call You Back I
3. I'm In Trouble
4. Men
5. Gather, Really
6. The Tree
7. Stay There
8. House Hold
9. It's A Frog's World
10. Worthy Mushroom
11. Apathy
12. The Family's Broke