Something of a "reverse-exorcism" movie directly descended from the likes of Rosemary's Baby (1968) and The Devil Rides Out (1968), Anything for Jackson – a Canadian production from director Justin Dyck and writer Keith Cooper – is a contemporary satanic shocker to stand with Ti West's The House of the Devil (2009). Our Culture reviews the film here as part of its selection for the 2020 Fantasia International Film Festival.
Somewhere in the snowbound United States, the wealthy Dr Henry Walsh (Julian Richings) and his prudish wife Audrey (Sheila McCarthy) are grieving the loss of their grandson, Jackson. But they don't intend on mourning him for long. After months of planning, they kidnap Henry's pregnant patient, Becker (Konstantina Mantelos), and lock her in a sound-proofed room on the top floor of their expansive family home. Using black magic learned from an ancient codex, their intention is to summon a demon who they hope will conjure Jackson's spirit into their prisoner's unborn child. But Henry and Audrey are messing with forces they don't fully understand, and soon their house becomes the site of terrifying paranormal activity.
Like so many great horror films before it, Anything for Jackson is concerned with the ultimate evil: rich white people. Back in the late 1980s, following a decade defined by social and fiscal conservatism under Ronald Reagan in the United States and the beginning of Canada's neoliberal transformation under Brian Mulroney, North American horror cinema was awash with narratives about wealthy, white Americans hiding monsters just beneath their civilised veneers, including The Stepfather (1987), Flesh Eating Mothers (1988), Parents (1989) and Meet the Applegates (1990). Brian Yuzna's Society (1989), which casts the rich as shapeshifting creatures who feed on the poor, is perhaps the most obvious example.
Entirely unsurprisingly given that an unscrupulous billionaire is currently the President of the United States, these themes have recurred in horror cinema of recent years, particularly in movies that have suggested the wealthy elite might be quite literally in league with the devil. In fact, Anything for Jackson has a great deal in common with two of the very best horror movies of 2019: Ready or Not and Satanic Panic. All three films use the tropes established by decades of satanic horror to indict the selfishness and greed endemic to the Western world.
Of course, both Ready or Not and Satanic Panic are horror comedies, and derive a great deal of their humour from depicting their devil-worshippers as bratty caricatures. Although it is darkly humorous in places, Anything for Jackson is a far more straight-faced picture, and Henry and Audrey are altogether more insidious villains. They are obscenely rich, but – as expertly brought to life by genre stalwarts Julian Richings and Sheila McCarthy – they are also somewhat sympathetic characters, ostensibly driven to do awful things by overwhelming grief. But there is a sense that their actions are motivated not just by their emotional turmoil but also by a realisation that they have finally found something they can't buy; no amount of money can bring Jackson back, but perhaps the devil can.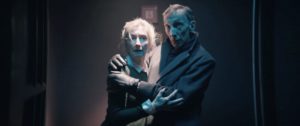 Anything for Jackson is, then, an important and exceptionally intelligent film about privilege; even if they are driven by their pain, it is apparent that Henry and Audrey are convinced that their wants and needs are simply more important than Becker's, a struggling single-mother-to-be, or those of her unborn child. Their high status leads them to believe that they can do whatever they please with her body if it means they get what they want – and, furthermore, they care very little about the many innocent people who come to harm because they have chosen to let the devil in. Even when a secondary villain is introduced later in the film, they are entirely motivated by a desire for wealth and power – or, in other words, a desperate yearning to have what Henry and Audrey already possess.
So when the Walsh household becomes overrun with things from beyond the pale, it is difficult to feel that Henry and Audrey have anyone to blame but themselves. And those things are terrifying, too – this is not only a scathingly sharp commentary on social power structures, but also an extremely effective horror movie. Ranging from a simple ghostly sheet to truly horrific creations realised with impressive practical effects, the apparitions that appear in Henry and Audrey's home are deeply unsettling, making Anything for Jackson a film that gets under the skin in the same way as, for example, The Innkeepers (2011) or The Autopsy of Jane Doe (2018) – two of the best supernatural horror films of the last decade.
In many ways, Anything for Jackson recalls Ti West's breakout film The House of the Devil: a cunningly clever, genuinely unnerving satanic shocker with something important to say about the unfortunate tendency of society's most privileged to use and abuse its most vulnerable. Henry and Audrey ooze selfishness and entitlement, and give not a second thought to how their actions might affect the world around them. After all, as the film's title suggests, they will do anything to get their grandson back – the consequences be damned.