Phoebe Green has announced her debut EP: I Can't Cry For You arrives December 3 via Chess Club Records. The 22-year-old Manchester artist has also shared a new single called 'Golden Girl' alongside an accompanying music video by Harvey Frost & Rory Chapman. Check it out below, and scroll down for the EP's cover artwork and tracklist.
"'Golden Girl' is about realising that being alone can be absolutely crucial when it comes to self growth," Phoebe Green said in a press release. "It's about accepting the fact that total perfection is completely unattainable, so desperately trying to meet that standard in every aspect of my life – especially my relationships – will never not leave me feeling like I've failed. I had to just surrender to the fact that I'm a bit of a fucking nightmare from time to time, and pretending that part of me doens't exist is exhausting."
I Can't Cry for You includes the previously released single 'Reinvent'.
I Can't Cry for You Cover Artwork: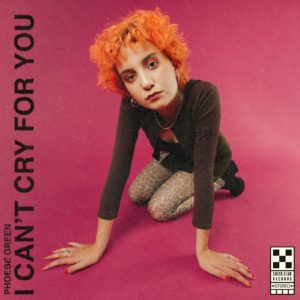 I Can't Cry for You Tracklist:
Reinvent
Grit
Golden Girl
A World I Forgot
Dreaming Of (vinyl bonus track)
Easy Peeler (vinyl bonus track)