David Breuer-Weil is a well-respected contemporary artist who published his new book Golden Drawings, not long ago. In the book, Breuer-Weil showcases 66 drawings which were created during the first U.K lockdown. To talk about the book, and his new online exhibition, David joined us for an interview.
Hi, how are you?
Keeping busy with creating art is keeping me sane during these trying times. Artists are lucky if they can enter their own alternative realities especially at times like this.
So, how did your journey into art began?
My father is an artist and my grandfather was a pianist, both from Vienna, so it was in the blood. My brother was the rebel because he became a banker. I went to Central Saint Martin's School of Art when I was 18 and was lucky to be taught by Shelley Fausset, one of Henry Moore's assistants. Because of him and the closeness of the British Museum to Saint Martins at the time, I got an inspiring insight into what makes sculpture and painting powerful and significant, and that art is a vocation. There were students of diverse backgrounds at the college and it was a fertile place for discovering new ideas. Some of the ideas I had then I developed years later, such as my sculpture Brothers that was installed at Marble Arch and the sculpture of a half-submerged head, Visitor, now in Cavendish Square. I first worked on these motifs whilst still a student and they became monumental sculptures many years later. For many years I worked on a series of vast inter-related canvases that I called The Project. It was installed in stages at the Roundhouse in Camden, The Oxo Tower and in the Vaults under Waterloo Station and at some point in the future will be housed under one roof. Other early influences include prehistoric pieces such as Stonehenge and the Avebury Stone Circles. I had the ambition to make contemporary monumental pieces that had some sense of a timeless presence but were instilled with human thoughts and expressions of human relationships such as brothers and searing images of outsiders and arrivals from different cultures. An example of this is Alien, an eighteen-foot tall bronze of a giant person crash landed on the earth. This was exhibited in Grosvenor Gardens, a stone's throw from Buckingham Palace for almost two years, and is now on show at the sculpture park of the Berardo Museum in Lisbon. I also just completed a piece titled Visitor 5, a huge sculpture of two enormous feet, another crash-landed alien. For me an alien means an immigrant like my father and grandfather more than an extra-Terrestrial. They were paradoxically called  "enemy aliens" when they escaped Nazi occupied Vienna and arrived in London. I like the idea that casts of sculptures based on the idea of the outsider have found homes around the globe, such as Visitor I, that is in Armenia and New York and Visitor 2 in Istanbul. I have a sculpture titled Flight that until recently was on public display in Hyde Park Corner. It is my way of saying that we are constantly on the move, although that has stopped for now because of Covid. Outdoor sculpture, however, has a new role because museums and galleries are shut. I have just unveiled a new four part bronze installation in London Docklands that will be there permanently and I am happy that many people have already visited it whilst other art venues are closed.
You're released a new book called Golden Drawings, how did the idea for it came about and what inspired you to create it?
On March 19, at the very start of the first Lockdown, I felt unwell. To keep going I started a drawing to reflect how I was feeling. As I spiralled into Covid-19 I kept on drawing, it is less physically demanding work than large bronzes or canvases and I had less strength,  but my mind was in a weird place, partly as a result of Covid and the sweats. I had some hallucinations that went directly into the drawings, there is a sense of otherworldliness about them and psychological intensity. Each of them took many hours. I believe drawing is the most basic and perhaps the most personal art form. The drawings became a visual diary of having Covid, coming through it and all my thoughts about this unique and tragic time in history. I decided to illuminate each drawing with gold leaf, like medieval apocalyptic manuscripts made in times of plague and war. It seemed appropriate to this time, especially as uncannily during the first lockdown there was this glorious sunshine. There were many unforgettable things happening that I turned into visual motifs. For example, the Thursday Night Clapping in support of the NHS, a tremendous image of humanity and its interconnectedness during times of collective trauma. I drew images of Lockdown, all the separate pods in which we were and still are forced to live, the importance of our closest relationships, partners, children, parents. In some cases, we were closer than ever and in others unable to see them at all. There was the prevalent fear but also a greater appreciation of the simpler things, breath, water, food, nature. When I recovered, I went for daily walks on Hampstead Heath, and the landscape is a backdrop to the series of Golden Drawings, intense, highly detailed symbolic, cathartic works. In the end there were 100 of them and 66 of them were published in the book by Gli Ori. This Italian publisher had seen three of the drawings that I had emailed to a curator in Italy and who had published them in another book on Covid representing many international artists. As Gli Ori were publishing a series of books on artists influenced by Covid, they asked me to publish the Golden Drawings. It was a perfect coincidence of having just made this series and there being a relevant platform. As I had made written notes on each drawing the book has words as well as images.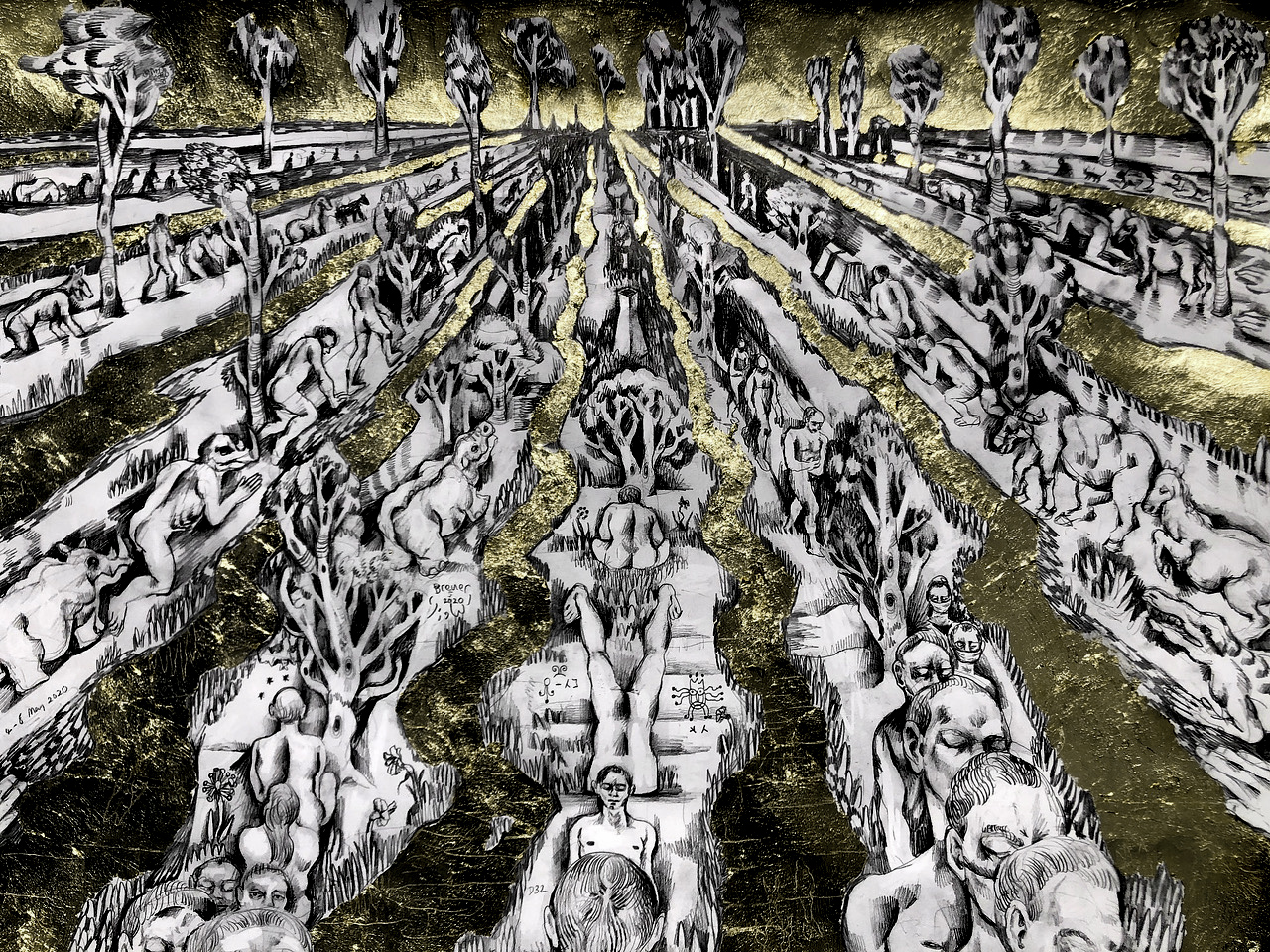 Did you face any challenges making the book?
Having done other books on my work in the past that covered different periods, formats, methods and series of works, in some ways this was easier, as it was a single aesthetic, one drawing followed on from the other and they all had the same colour scheme. I thought of it as an illuminated manuscript and wanted it to look as if the whole book was a single work of art as well. The challenge was to reproduce the details of the drawings and the golden tone of the gold leaf. This can be quite hard to reproduce as the tone of gold can differ according to the light. The photographer had to work harder than usual to get the gold colour just right and the balance of the drawing and backgrounds. When I made the drawings, I applied the gold leaf to textured acrylic resin that was painted into each background, so they are really paintings as well as drawings because the impasto of the acrylic resin is visible beneath the gold, giving the pieces a sense of weight and texture. All of this had to be faithfully matched in the reproductions. There is also a fair amount of text, but I kept the writing simple and heartfelt, based on real experience as closely as possible. My wife Samantha helped me greatly here, studying the text.
What do you hope the book will achieve?
I would like it to remain as a kind of visual diary of this time. Hopefully some people will feel emotionally connected to it because it is very unusual for the whole world to be going through the same kinds of experiences at the same time. The book will also keep this series of works together before they are exhibited and find different homes.
If you could give any advice to artists looking to publish books or get their work exhibited, what would it be?
There are, unfortunately, no easy answers. In this case it was a coincidence of the platform and the body of work coming at the same time. Because Italy was one of the earliest countries to feel the full brunt of the pandemic publishers there started looking early on for the cultural products of this time and created series of books for this purpose. My experience is at the outset young artists must not be put off by the apparent lack of openness to new artists in the art establishment. Although of course some will have an easy path to exhibiting or be picked up early on by a gallery, this is a very great exception to the rule. The vast majority have to cut their own path and be self-starters, organising their own pop-up shows and even publishing their own catalogues. No artist should feel there is anything wrong with this. Often, established dealers emerged at the same time as their stable of artists, are often even peers and friends. This means that it can be difficult to break in sideways if you don't happen to be in a particular group. Opportunity, sadly, is less to do with the quality of the work you produce than random encounters. But that should not stop you if you have a strong vision to pursue. There are many ways that artists now can show their work even if there are fewer galleries or exhibitions or opportunities. Through social media you can reach more people than ever without having to go through intermediaries. I believe that is the way of the future.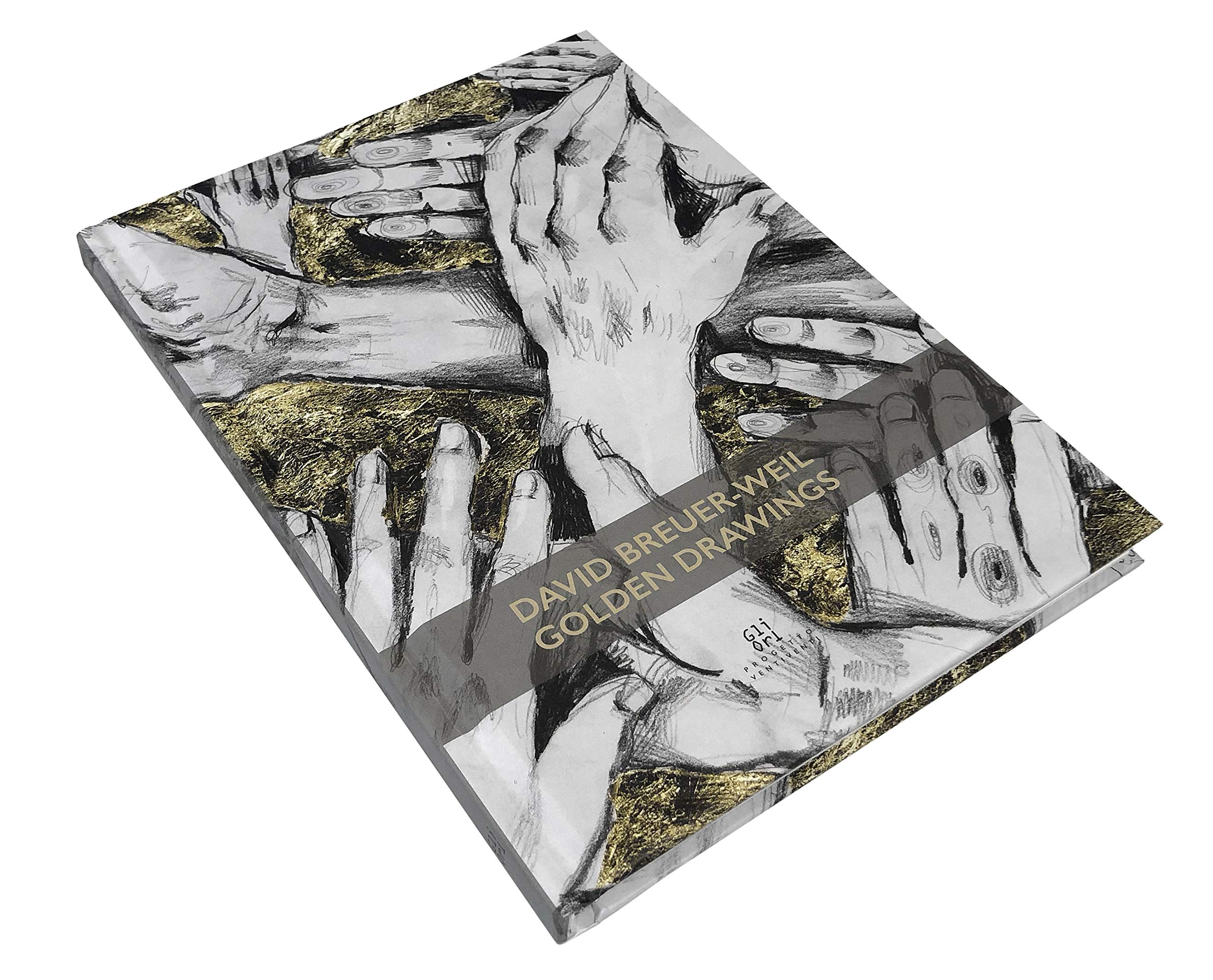 Finally, do you have another other plans for your art in 2021?
Yes, the third Lockdown, although very difficult for so many, gives artists time to work intensely, and this is one of the few positives to emerge from all of this.
Between the first two lockdowns, some of the national museums were open by appointment. I went a number of times to visit Tate Britain, with its unequalled holdings of artists such as Moore, Hockney, Rothko, Spencer and Blake. Walking through the vast halls of the Duveen Galleries I had what I can only describe as a vision. Inspired by many of these artists, I imagined these vast walls filled floor to ceiling with paintings representing the unique period that we are now in. At first it seemed like a fantasy, but in the weeks and months that followed I ordered rolls of canvas and actually painted the vision that I had. The result is a series of large canvases including the centrepieces:  two enormous canvases titled "Pandemic" and "Lockdown", each 4 by 9 metres. "Pandemic" shows a sun-like Covid at the centre radiating thousands of human beings across the world, an irresistible and terrifying force. "Lockdown" is a vast field of people contained in little dwellings stretching to infinity. In each pod people are doing their own thing: speaking on zoom, working on the computer, watching TV, eating, sleeping, huddling or arguing in family units, in one pod a man is appalled whilst watching the tragic death of George Floyd. I believe strongly that art must reflect its times and speak to people of diverse backgrounds and people with no particular expertise. It is a human visual language. In the other works from this series of paintings inspired by the Duveen Galleries I show the whole world composed of the bubbles in which we are now all living. At some point after the lockdowns, I hope to show this freshly painted series as a marker of this unprecedented period.
---
Visit the online exhibition here.
Buy Golden Drawings via Amazon.