Aušrinė Daugėlaitė, known as Aniko on Instagram and her website, is an artist from Lithuania. With over 130,000 followers, Aniko's creations attract audiences with their originality, spiritual symbolism, beautiful autumnal tones and effortless strength. The artist aims to convey feelings of unconditional love and bliss through her artwork, all the while trying to awaken and work on her most authentic self. 
Earlier in life, Aniko was interested in becoming a tattoo artist, and has in fact designed all of her tattoos herself. Nowadays, she focuses on visual and mostly digital art which she sells in original or print form on her website. Aniko's vintage-style creations normally couple art with inspirational phrases, and her subjects are often other-worldly, connected to the natural and celestial world.
Hi, Aušrine! How have you been doing lately? Where are you currently based?
Hi! Well, winter isn't my favourite time of year, but with spring just around the corner I can feel myself becoming more active and positive. I currently live in Druskininkai.
You were born and grew up in Lithuania. Which area are you from specifically and what is its significance in your life?
I was born and raised in Ignalina – that town has always had a special place in my heart. I love coming back there, as there are so many gorgeous lakes, pine forests, and natural areas where I like to wander with my dog. I call it home.
You work with very gentle, earthy tones, incorporating mythical and natural elements into your work, from three-headed creatures and snakes to mushrooms and living flowers. Would you say your art is inspired by Baltic folklore and nature, or do you draw your inspiration from elsewhere?
Folklore is actually not a source of my inspiration, but Baltic nature definitely is. I also find a lot of guiding ideas in spiritual texts and my goal with every piece of art is to transfer the feeling of eternal love and bliss to those engaging with my work.
I think you're definitely succeeding at that. With your Instagram bio describing your creations as "soul art", it seems like spirituality plays a huge role in your life. Could you comment on this a little bit?
Yes, spirituality is truly very important in my life. It's no secret that nowadays the world tends to concentrate on the physical appearance of people or objects, forgetting everlasting values, the rhythms and rewards of nature, and most importantly, the importance of nurturing our souls. I hope to remind people that we are connected to every living being.
Leading on from that, would you say you're religious?
I'm not religious, but I do believe all religions have great ideas, even if they are limited and therefore cannot paint the whole picture.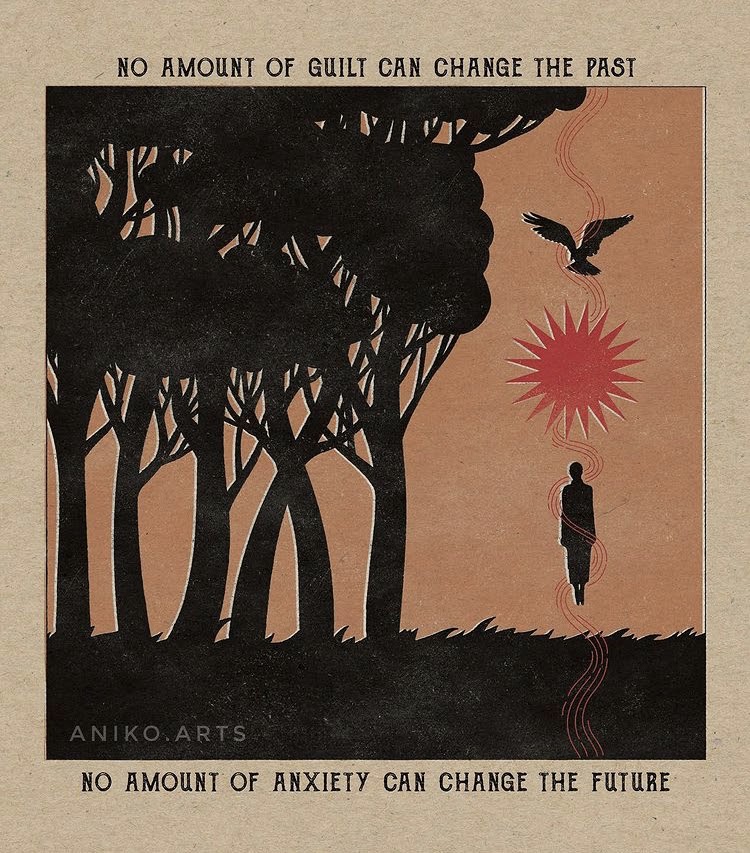 I'm a big fan of the "No amount of guilt can change the past" print. These are grounding, calming words, especially helpful in times of the coronavirus crisis. How do you choose the particular text that accompanies your artwork? Which one comes first?
I usually choose words and phrases that resonate and teach me something, but other times the text arrives in the form of a thought that keeps appearing in my head while I'm drawing, as if begging to be written down. There's no real rule to how my artwork is born; most times I just sit in front of the canvas with no initial idea and my hand seems to know what to draw.
The female body seems central to your artwork, often taking on a magical role. Could you talk us through what femininity means to you?
The female body has inspired artists for centuries, and I am no exception. I find it so aesthetically appealing, fragile, powerful, divine, and wild, all at once. It feels like it hides all the secrets of the universe – that is why I love drawing women's bodies. For me, to be feminine is to be completely, unapologetically yourself, owning your mysteriousness and wildness, but also your sacredness, warmth and care.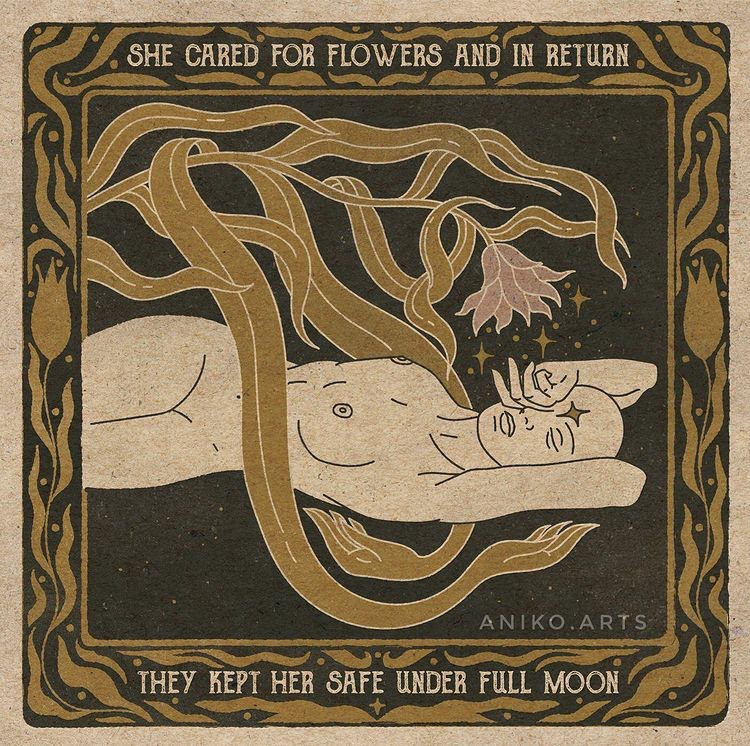 I love this idea of a mutual protective relationship between humans and nature in the "She cared for flowers" print. Do your works aim to remind people how crucial it is to take care of our natural world – especially in the context of a climate crisis?
Kind of, yes. We often see ourselves as the rulers of the Earth: we deplete the lands, cut down forests, destroy the nests of animals and pollute the waters. We forget that nature is indispensable to us, that we are as much a part of it as every tree or bird. I don't view the forest as a pile of wooden sticks that cleans the air, but rather as a being that is able to heal, both spiritually and physically. In my eyes, the world is a magical place, and nature is an essential part of it.
Many of your subjects have a third eye. Could you explain what this means to you?
"We have two eyes to look, and one to see." I can't recall who spoke these words, but a third eye is for seeing truth, not illusion. 
Your artwork definitely inspires self-love and confidence. Do you find you draw a lot of boldness and self-assurance from your natural and social surroundings?  
I'd like to remind everyone who follows my artistic path that my creations are often a projection of what I'd like to see in myself or others. The things that I share are often what I lack in life, and I heal myself through creating art. I still struggle to get inspired by the confidence and self-assurance that surrounds me or even that is found within me, because I feel there are still so many lessons to be learned. 
On top of the original artwork and prints you create, you've also designed your own tattoos. Do you have a favourite one? 
I like all of them, but my favorite is my throat tattoo: a mandala of Baltic patterns which represents my roots. 
To finish off, what's your favourite place on Earth?
It would have to be the pine forest I frequent in Ignalina. I've visited many locations that were much more mesmerizing, but there's a certain beauty in coming back to the place you know so well. 
That's wonderful. Thanks so much for your time.