Since July 1999, audio drama production company Big Finish have released a brand-new Doctor Who story every month, in what would eventually become known as the "Main Range". The company's Who output has since flourished into a multitude of expansions, spin-offs, and continuations, and after almost twenty-two years, the Main Range is being retired – and some big names are seeing it off. Peter Davison, Colin Baker, Sylvester McCoy, and Paul McGann headline the cast of Robert Valentine's The End of the Beginning, capping off nearly a quarter-century of Doctor Who storytelling.
Robert joins Our Culture to talk about working with Big Finish, his career in audio drama, and where the medium stands in today's cultural climate.
Thanks for chatting with us, Robert. You've worked with the BBC, Audible, Wireless Theatre, and even BMW. How did you get your start in writing audio drama, and what attracts you to the medium?
I started writing audio drama after getting involved with the Wireless Theatre Company, which was founded by my friend Mariele Runacre-Temple back in 2007. The company's mission statement was to encourage new writing and introduce new acting talent for the "iPod generation", which both utterly dates us and also shows how ahead of the curve Mariele's thinking was. With the coming of the portable MP3 player, she saw that audio drama was going to become a more valued currency than it was probably perceived to be at the time. And for my part, I welcomed the chance to write and direct in a medium where you could tell really big, epic stories with great actors without actually needing to build giant sets to blow up and making everyone get up at five in the morning to do it. Looking back, Wireless created this really great scene that brought a lot of very talented and enthusiastic people together. And now I'm sounding like a nostalgic old geezer.
You've written The End of the Beginning, the final instalment of Big Finish's Main Range of Doctor Who releases. Did you feel any pressure in capping off over twenty years of storytelling?
I did feel some pressure very briefly, but literally only for about thirty seconds. Writing Big Damn Adventures is pretty much my wheelhouse, so it was a task that was well inside my comfort zone. Also, capping off twenty years of storytelling is a privilege rather than a chore, and boiling it down, all I really had to do was write a story that mirrored the very first Monthly Adventure, which was The Sirens of Time by Nick Briggs, and inject the proceedings with a certain celebratory flavour. So really it was a fun job and honestly not daunting at all. You can't write when you're feeling daunted, or at least I can't, so it's a feeling you have to shed immediately.
The End of the Beginning features four Doctors, a crowd of companions, and – by the sounds of things – more than its fair share of timey-wimey chaos. What can listeners expect from it?
If listeners have half as much fun listening to The End of the Beginning as I had writing it, hopefully they'll find it two hours well spent. I'm very aware that some Main Range fans are actually feeling quite bereft that the line is ending, but as the title promises, the Doctors' adventures will all continue.
Readers may be familiar with my affinity for Eric Roberts' portrayal of the Master in the Doctor Who TV movie, and you've written the opening episode of his upcoming audio spin-off, Master!. Please tell me literally anything you can about writing for such a unique performer.
This new series, which also stars Chase Masterson as the returning bounty hunter Vienna Salvatori, will give listeners a three-part cyberpunk action-thriller epic with Eric Roberts' Master front and centre. It'll be the most time he's had in the role, when you think about it, so by the end you'll know his incarnation of the wickedest Time Lord so much better. And for my part, I just tried to help make him as deliciously, Satanically evil as I possibly could.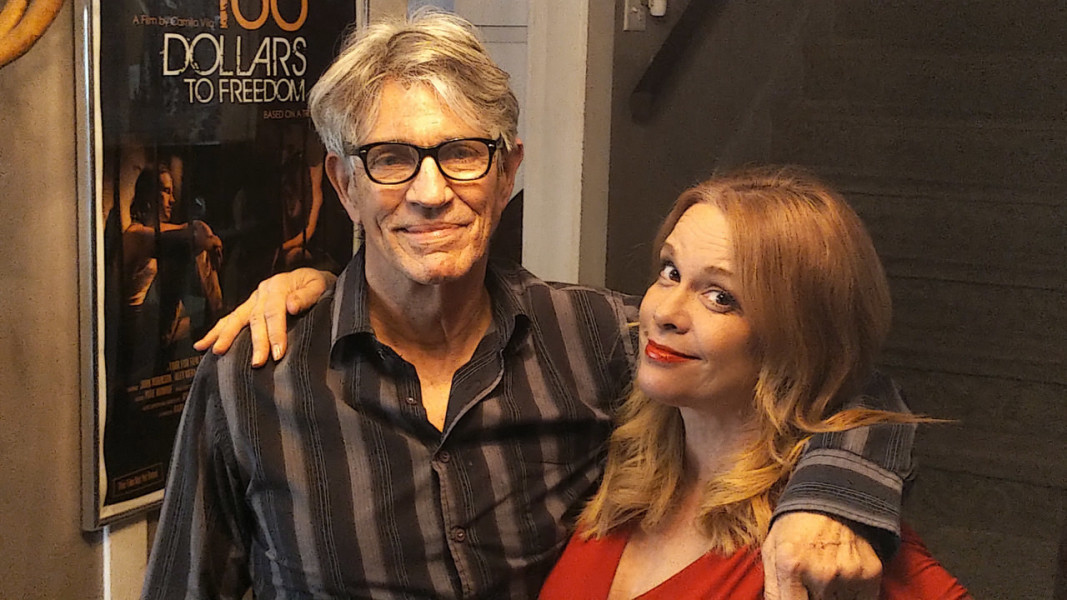 Do you have any dream projects? Anything you'd particularly love to bring to audio?
This is less a personal ambition and more something that I hope someone somewhere does as soon as possible as a service to the world, but Brian Blessed should play Professor Challenger in an adaptation of Arthur Conan Doyle's The Lost World. As in today. Somebody give the man a script and stick him in a recording booth pronto.
We're hearing a lot about an "audio drama renaissance" at the moment, with a lot of prominent theatre creatives turning to the medium in lieu of live performances. Is that a fair assessment?
To be honest, the audio drama renaissance has been going on for several years now, but it's great that it's continuing to be discovered, albeit in that instance for deeply sad reasons. I think it's just part and parcel of the way journalists write articles about this stuff, but celebrities are constantly inventing podcasts for the first time, if you believe everything you read. Certainly, thanks to the pandemic and Covid restrictions, audio drama has weathered better than other media due to the ability to record and consume remotely, so more artists and creatives are turning to it. And I think that long-term, beyond Covid, that can only be a good thing, because it's a great medium in its own right. Just don't act like you invented it last Tuesday.
To that end, to what do you think audio drama owes its timeless appeal?
Well, thanks to modern technology, audio can be consumed anywhere at any time, and compared to other recorded media it's incredibly easy to produce and therefore it's hugely democratic. However, I would contend that its appeal isn't timeless, but entirely at the mercy of the prevailing technologies. We're certainly in a good patch at the moment though. Having said that, although I'm a fairly prolific practitioner in the medium, I'm by no means an expert on it, and would swiftly bow to my academic colleagues and other podcasting experts who legitimacy know their stuff.
Finally, what's next for you?
I'm working on a lot of different projects at the moment, many of which I'm not allowed to talk about yet, which I realise isn't interesting to hear. At the moment I'm writing something for Radio 4, and I've got a few more Doctor Who audios currently in the works. But I'm definitely being kept busy, which I'm hugely grateful for. If you fancy following me on Twitter though, my handle is @MrRobValentine, and you can find me there procrastinating most days.
Thank you again, Robert!
The End of the Beginning is available now, and Master! is available to pre-order.