LA-via-Seattle trio La Luz have announced their self-titled fourth album. The record arrives October 22 via Hardly Art, and the new single 'Watching Cartoons' is out today. Following previous offering 'In the Country', 'Watching Cartoons' comes with a video directed by Nathan Castiel. Watch it below and scroll down for the LP's cover artwork and tracklist.
On their new album, guitarist and songwriter Shana Cleveland, bassist Lena Simon, and keyboardist Alice Sandahl worked with producer Adrian Younge. "We both create music with the same attitude, and that's what I love about them," Younge remaked in a press release. "They are never afraid to be risky and their style is captivating. I don't work with many bands, but I love taking chances on people that share the same vision. We both love to be ourselves, and it was an honor to work with them."
La Luz's last album, Floating Features, landed in 2018.
La Luz Cover Artwork: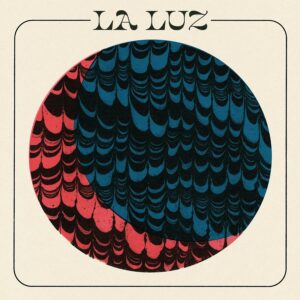 La Luz Tracklist:
1. In the Country
2. The Pines
3. Watching Cartoons
4. Oh, Blue
5. Goodbye Ghost
6. Yuba Rot
7. Metal Man
8. Lazy Eyes and Dune
9. Down the Street
10. I Won't Hesitate
11. Here on Earth
12. Spider House