James Blake has announced his next album: Friends That Break Your Heart is due out September 10 (via Republic). The LP follows 2020's Before and Covers EPs, as well as the 2019 full-length Assume Form. Today, Blake has released a new single, 'Say What You Will', alongside an accompanying video starring Finneas. Check it out below and scroll down for the album's cover artwork (by Miles Johnston) and tracklist.
"The song is about finding peace with who you are and where you're at regardless of how well other people seem to be doing," Blake said of the new single in a statement. "Comparison really is the thief of joy."
Friends That Break Your Heart, which Blake describes as "a concept album", features guest appearances from SZA, JID, SwaVay, and Monica Martin.
Friends That Break Your Heart Cover Artwork: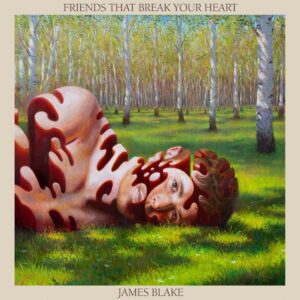 Friends That Break Your Heart Tracklist:
2. Life Is Not The Same
3. Coming Back [feat. SZA]
4. Funeral
5. Frozen [feat. J.I.D and SwaVay]
6. I'm So Blessed You're Mine
7. Foot Forward
8. Show Me [feat. Monica Martin]
9. Say What You Will
10. Lost Angel Nights
11. Friends That Break Your Heart
12. If I'm Insecure