Zachary Tillman has announced his first new album under the moniker Pearly Gate Music in more than a decade. The follow-up to his 2010 self-titled debut is titled Mainly Gestalt Pornography and it's out December 3 via Bella Union. Today's announcement comes with the release of the lead single 'The Moon'. Check out a video for it below, and scroll down for the LP's cover artwork and tracklist.
Tillman (the brother of Josh Tillman, aka Father John Misty) started demoing the follow-up to Pearly Gate Music after its release and sent those demos to the late producer and multi-instrumentalist Richard Swift, who invited him to his studio to record the new album. According to a press release, however, on the eve of his first scheduled session with Swift, Tillman suffered "a total mental breakdown" and eventually gave up on being a frontman. Tillman explained: "I had no self-esteem, no ability to see myself succeeding in even a moderate pressure situation."
Tillman decided he was ready to finish the album while his wife Sondra was pregnant with their firstborn child, Ocean, and went to Portland to record with his close friend and longtime collaborator Daniel Hindman, who also co-produced and engineered Mainly Gestalt Pornography.
"Across the span of 10 years, these (mostly) love songs were written after certain lovers, certain dread, certain visions, certain ecstasies," Tillman said. "I WAS A WAND'RER got written for a shamanic girlfriend. FINALLY, THE SECRET for a stray kitten. LIKE FLOWERS was written for my wife and OCEAN'S SONG for my daughter. Then they all got transformed. Shapeshifted. Now they're all about the same thing: Mainly Gestalt Pornography. I hope that they really do transcend their origins to speak of Love in its highest, most encompassing form. God is Love."
Mainly Gestalt Pornography Cover Artwork: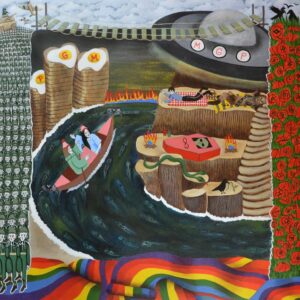 Mainly Gestalt Pornography Tracklist:
1. Chiron's Bow
2. Finally, The Secret
3. Life Is A Dream
4. The Moon
5. Ocean's Song
6. I Was A Wand'rer
7. Can We Go Off To The Distance
8. Old No.22
9. Stefani
10. Like Flowers