Béatrice Dalle stars in the YSL Fall 21 campaign and is once again reminiscent of her infamous character in Jean-Jacques Beineix' 1986 cult classic Betty Blue. Time for a flashback.
Betty walks in through the door of a shabby beach shack, dressed in some sort of blue apron-dress that is barely covering her breasts, accompanied by red lips and a daring smile. The ocean, the beach and the sky are her only companions. Playing with a sheer pink scarf in her hands she walks towards her boyfriend. "Alors? How do you find me?", she asks before allowing him to see what's underneath the apron. The cinéma du look came into full swing.
The story is a mix of crime, road trip and psychological drama. 19-year-old wild child Betty is in love with a 30-year-old handyman and aspiring writer Zorg (Jean-Hugues Anglade). They live in a beach bungalow and "have sex every day", as the famous opening sequence suggests. But the good times can't last. Betty's idealism and fiery, uncompromising nature forces them to practically run away. But there is no clear destination, and with that, they never fully arrive anywhere. Until one of them has to go.
Betty's character has been inextricably entwined with Dalle ever since. Her wild past and controversial private life gave her a well deserved Enfant Terrible status. Dalle became an instant star. As she is battling invisible demons in that YSL Fall 21 campaign to Mozart's Requiem Lacrimosa, one cannot help but be reminded of Betty acting out in despair.
Initially, the film received mixed reviews. Roger Ebert criticised director Beineix for making a movie that is rather "for and about Dalle" by making her "boobs and behind" the centrepiece of the film. In other words, the film is supposedly only a testament to Dalle's untamed sexuality.
The polished look of the film with its vibrant 80s styling provoked some to label the cinéma du look as a genre that prefers style over substance. Hard to argue with that since the genre is in the name. Even though Betty Blue has been frequently reduced to its nudity, Beineix is presenting us a sombre subject matter, wrapped in either ferocious energy or complete numbness.
Betty's struggles entice almost every action in this film. It is a story about the inability of finding oneself and find one's place in society. We think we are witnessing a sincere whirlwind romance full of heated exchanges and the restrictions society imposes on the couple individually. But soon we are forced to see them as separate entities, simply latching onto each other. Their obsessive love for one another is crippled by its emptiness. As Betty's emotional and mental turmoil increases, Zorg fails to see her for who she is. His only option is to chase her while she remains dependant on him. Betty is unwilling to deal with anything that is not going her way and turns her sorrow into a destructive force of nature. Zorg is irrationally devoted to her and tries everything he can to find a place for them to live happily in peace but it never lasts. His help is restricted to the outside world as he has no access to Betty. She dreams up a lonely house in the country and immediately feels suffocated once they arrive. Betty's emptiness inside is what she craves on the outside, only to find that kind of life impossible. Neither Zorg nor Betty can truly live their personalities out in the open. Zorg's writing has been labelled offensive and Betty's stylised sensuality is only covering a deep-lying mental crisis. Her sexiness is a mere bystander that does not serve her.
Their helplessness and confusion is equally reflected in some sort of gender swap, in which Betty starts wearing his clothes and Zorg dresses up as a woman to visit Betty in hospital. Eventually, Zorg liberates himself in order to be the writer he wanted to be. In the end, there is no place for Betty to exist.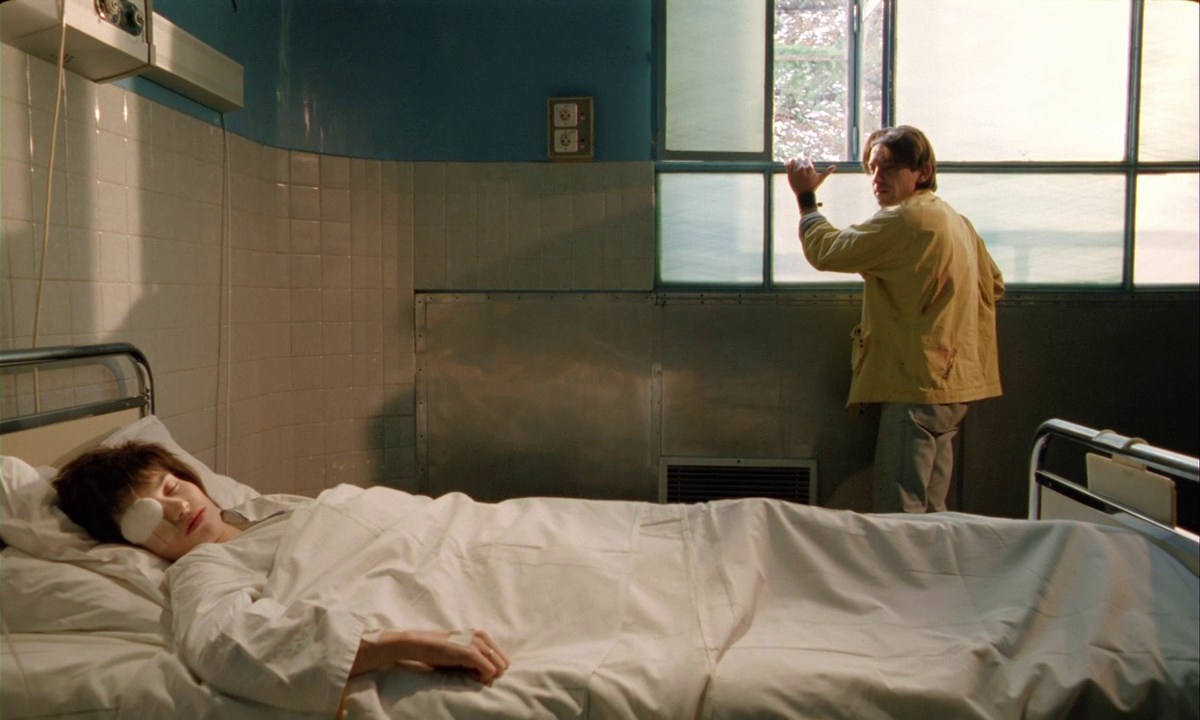 While the story remains a debatable one, Betty Blue still mesmerises with its bold colours and iconic stylistic choices. They keep us entertained while watching a young woman gradually deteriorating.
Of course is Dalle's handyman look with her perfectly messy bob, head to toe covered in bright pink paint worthy of any fashion look. As she's lounging braless in a tight red dress on a yellow car "warming her ass", she is inviting everyone to look at her: The cinéma du look has its heroine. Her alluring demeanour is only interrupted by her innocent smile sporting a tooth gap. Dalle became everyone's favourite movie girlfriend with that explosive mix of being too cool for school, yet as pure as a cartoon character. She is unattainable but which teenager couldn't relate to at least the idea of her struggle?
Their apartment in the village is oozing classic french antique vibes, an inspiring contrast to the sleazy beach bungalow or old hotel room the couple has occupied before. Even Betty's make-up is dramatically reflective of her state of mind.
Zorg's toned and slender body is equally stylised and constantly in movement, keeping up with Dalle's eye-catching performance. As he tries to accommodate his girlfriend as much as he can, he runs and fights and rushes through the film, always sweating, always quick witted, and always one step behind Betty. Zorg's invincible dynamism keeps the story going and brings the couple from one place to another until he has no choice left but to stop running.
Betty Blue remains a one of a kind classic and a style reference albeit a peculiar one. An unexplainable sadness lingers throughout the film yet whether the focus lies on Betty's body remains with the spectator.