Hurray for the Riff Raff – the project of singer-songwriter Alynda Segarra – has announced a new album called Life on Earth. The record was produced by Brad Cook and is due out February 18 via Nonesuch. Lead single 'Rhododendron' arrives today with an accompanying video directed by New Orleans artist Lucia Honey. Check it out below, and scroll down for the LP's cover artwork and full tracklist.
'Rhododendron' is a song about "finding rebellion in plant life," according to Segarra. "Being called by the natural world and seeing the life that surrounds you in a way you never have. A mind expansion. A psychedelic trip. A spiritual breakthrough. Learning to adapt, and being open to the wisdom of your landscape. Being called to fix things in your own backyard, your own community."
Hurray for the Riff Raff's last full-length album was 2017's The Navigator. Last year, they joined Waxahatchee and Bedouine for a cover of Big Star's 'Thirteen'.
Life on Earth Cover Artwork: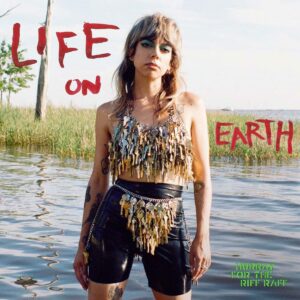 Life on Earth Tracklist:
1. Wolves
2. Pierced Arrows
3. Pointed at the Sun
4. Rhododendron
5. Jupiter's Dance
6. Life on Earth
7. Nightqueen
8. Precious Cargo
9. Rosemary Tears
10. Saga
11. Kin