Wet Leg have announced their debut self-titled album, which is set to arrive on April 8 via Domino. Along with the announcement, the band has unveiled two new songs, 'Too Late Now' and 'Oh No'. Watch the Fred Rowson–directed video for 'Too Late Now' and listen to 'Oh No' below.
In a statement, Wet Leg's Rhian Teasdale explained that 'Too Late Now' "is about sleepwalking into adulthood. I never imagined that my adult life would look the way it does and I guess this song reflects on some of the pressures and pulls of life. Sometimes I get really inside my head and everything can feel very overwhelming. I think this song is about accepting that life can feel a bit shit from time to time. Maybe don't indulge that thought too much though. Just take some time for yourself. Take a breath. Have a bath. It might make you feel a bit better."
Wet Leg was mainly recorded and produced by Speedy Wunderground's Dan Carey in London in April 2021, before the Isle of Wight duo had released their debut single or played a show. 'Chaise Longue' and 'Angelica' were produced by Jon McMullen and Josh Mobaraki respectively.
"I wanted to write fun songs, I didn't want to indulge sad feelings too much, I wanted to write stuff that's fun to listen to and fun to play," Teasdale added of the album. "But then, the sad seeps through, as well. Wet Leg was originally just supposed to be funny. As a woman, there's so much put on you, in that your only value is how pretty or cool you look. But we want to be goofy and a little bit rude. We want to write songs that people can dance to. And we want to people to have a good time, even if that might not possible all of the time."
'Too Late Now' and 'Oh No' follow Wet Leg's September single 'Wet Dream', which landed on our Best New Songs segment.
Wet Leg Cover Artwork: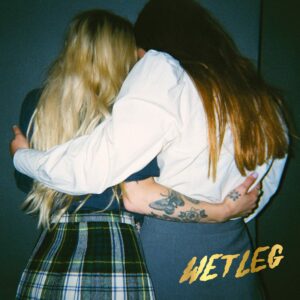 Wet Leg Tracklist:
1. Being in Love
2. Chaise Longue
3. Angelica
4. I Don't Wanna Go Out
5. Wet Dream
6. Convincing
7. Loving You
8. Ur Mum
9. Oh No
10. Piece of Shit
11. Supermarket
12. Too Late Now