The Baltimore-based duo Ed Schrader's Music Beat have announced a new album. The follow-up to 2018's Riddles is called Nightclub Daydreaming, and it's out on March 25 via Carpark. They've also shared two new songs along with the announcement, 'This Thirst' and 'Berliner'. Take a listen below.
Ed Schrader and Devlin Rice started working on their fourth LP in 2019. The idea was to make a record that was "fun, danceable," and they road tested songs the songs 'This Thirst', 'Echo Base', and 'Black Pearl' in early 2020 with drummer Kevin O'Meara, whose death in October 2020 weighed heavily on the duo as they worked on the album. As a result, Schrader described the aesthetic that permeates Nightclub Daydreaming as "mad euphoria in the face of doom."
"The fun thing about this record is that it's all at once informed by our more recent lush productions with Dan Deacon, yet spartan and boiled-down, exuding a coldness wrapped in ecstasy, following our time honored trend of never giving people what they expect, but hopefully what they want," Schrader added in a press release.
Nightclub Daydreaming Cover Artwork: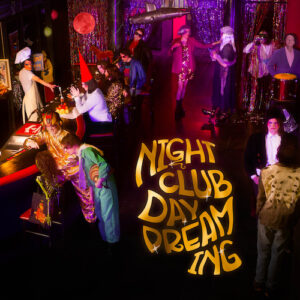 Nightclub Daydreaming Tracklist:
1. Pony in the Night
2. This Thirst
3. Eutaw Strut
4. European Moons
5. Hamburg
6. Black Pearl
7. Echo Base
8. Skedaddle
9. Berliner
10. Kensington Gore