Guerilla Toss have today announced their signing to Sub Pop, which will release their new album Famously Alive on March 25. The upstate New York band has also shared the record's opening track, 'Cannibal Capital', alongside a video directed by Lisa Schatz. Check it out and find the album's cover art and tracklist below.
Vocalist and lyricist Kassie Carlson, multi-instrumentalist Peter Negropontem, and guitarist Arian Shafiee wrote the new album at home in the Catskills during the pandemic. "You have to be with yourself all the time during the pandemic," Carlson said in a statement. "I had to figure out a way to manage my anxiety. The pandemic was hard, but it helped me get comfortable inside my own body. My peace of mind came out of being thrust into the deepest shit. This album is all about being happy, being alive, strength. It's meant to inspire people."
Famously Alive will follow Guerilla Toss' 2018 LP Twisted Crystal.
Famously Alive Cover Artwork: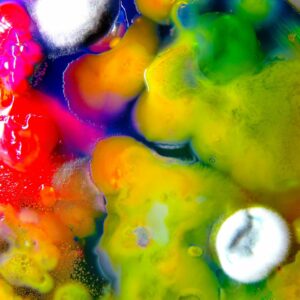 Famously Alive Tracklist:
1. Cannibal Capital
2. Famously Alive
3. Live Exponential
4. Mermaid Airplane
5. Wild Fantasy
6. Pyramid Humm
7. Excitable Girls
8. I Got Spirit
9. Happy Me
10. Heathen In Me