Leon Vynehall has announced his contribution to the Fabric Presents compilation series. It will be released on March 25 via Fabric on 2xLP, CD, and digital platforms. The mix features an introduction by Wesley Joseph as well as exclusives from Skee Mask, Or:la, Gaunt, Avon Blume, and Ehua. Along with the announcement, Vynehall has shared a new track called 'Sugar Slip (The Lick)'. Check it out below.
Speaking of the mix, Vynehall said in a press release:
The output of fabric's label holds a special place for me. During my teens into early twenties the musical landscape I was exposed to broadened, and my taste diversified greatly; going to shows, making music, and swapping new finds with friends. fabric had a huge part to play in shaping what I heard and was exposed to via their mix & compilation series. The first two I heard were Swayzak's 'fabric 11', and James Murphy & Pat Mahoney's 'FABRICLIVE 36'. Both these CDs helped open the door to a wider palette of sounds. Not only did I delve deeper into the compilations post & prior, but I learned about what I enjoyed when it comes to Djing – dynamics. That was the aim of my entry into the fabric discography. A dynamic mix with a cohesive sonic narrative running through it with the club in mind. I feel incredibly lucky to be putting forward my take on something that helped to shape how I approach what I do when I DJ.
Of the new track, he added: "I wanted 'Sugar Slip (The Lick)' to embody what this fabric presents mix was about – far-out, but playful."
Leon Vynehall released his last album, Rare, Forever, last year.
fabric presents Leon Vynehall Cover Artwork: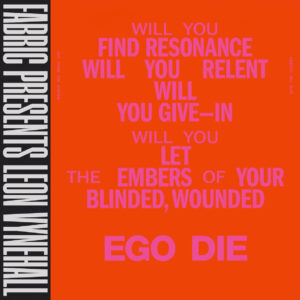 fabric presents Leon Vynehall Tracklist: 
1. Leon Vynehall – Climb Into The Cistern [feat. Wesley Joseph]
2. Zebrablood – Whatcomesup96
3. Newworldaquarium – Star Power
4. Lo Jack – Virgin Traff 22
5. Lady Blacktronika – Good Dick
6. Mute – Never
7. Louise Bock – Horologic
8. Or:la – Allaballa (Exclusive)
9. Pole – Überfahrt
10. Gombeen & Doygen – D'Americana
11. Round Four – Found A Way
12. Woo – Wah Bass
13. Mosca – This Branch Is Weak
14. Steevio – Syzygy
15. A2 – Midsummer Misery
16. DJ Deep & Traumer – La Valle La B (La Deep Mix)
17. DB Selective – Dub Train
18. Wax – Switch
19. Hagan – FWD
20. Bubas Produçoes – Padjinha Pt 3
21. A.k.Adrix – FL Studio, Obrigado
22. Skee Mask – Untitled 279 (Exclusive)
23. Avon Blume – South Bermo (Exclusive)
24. Sector Y – Road To World Cup
25. Innersphere aka Shinedoe – Phunk
26. Gaunt – Raw Cartoon (Exclusive)
27. Piero Umiliani (Zalla) – Produzione
28. Commodo – Scabz
29. Leon Vynehall – Sugar Slip (The Lick) (Exclusive)
30. Mala – Misty Winter [feat. Crazy D]
31. Ehua – Helios (Exclusive)
32. N-ERGY – The Mad 808
33. Ana Roxanne – Suite Pour L'Invisible