Obongjayar has announced his debut album, Some Nights I Dream of Doors, which lands on May 13 via September Recordings. Today's announcement comes with the release of the new single 'Try', which the Nigerian-British singer co-wrote with producer Barney Lister. Check out its accompanying Spencer Young-directed video below, along with the LP's cover art and tracklist.
"You can be a pilot or an astronaut, it's all so possible," Obongjayar said of the new song in a statement. "By the time you turn twenty, you realise you're probably not going to become a brain surgeon; reality starts to set in. That's what the song and this record is about; where do those feelings go? At what point do we lose our innocence, our wide-eyed approach to the world?"
"This album dives into the idea of opportunity and tries to explore what that means, what lies behind those doors, and asks if we're ready for it," he added of the LP. "The pursuit of success, what happens when you achieve it, and what happens if you don't? What does success mean? The head, the body, and the end of a dream. Opportunity is looking forward, and in that lies the question of time. What is your place in it? To know the future, or to fully be aware of your present, you need to analyse and understand your past. It's an endless loop that continuously piles on itself."
Some Nights I Dream of Doors will follow Obongjayar's 2021 EP with Afrobeats producer Sarz, Sweetness. It features London jazz musician Nubya Garcia as well as the previously released single 'Message in a Hammer'.
Some Nights I Dream of Doors Cover Artwork: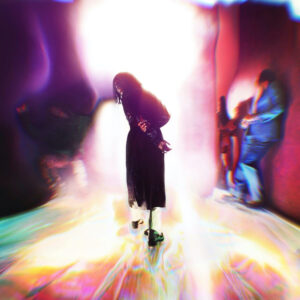 Some Nights I Dream of Doors Tracklist:
1. Try
2. Message In A Hammer
3. Parasite
4. Some Night I Dream Of Doors
5. Wrong For It [feat. Nubya Garcia]
6. Sugar
7. My Life Can Change Today (interlude)
8. New Man
9. All The Difference
10. Tinko Tinko (Don't Play Me For A Fool)
11. I Wish It Was Me
12. Wind Sailor