Maria BC has announced their debut album, Hyaline, which comes out May 27 via Father/Daughter (US) and Fear of Missing Out Records (UK). Today's announcement comes with the release of a new single called 'The Only Thing', alongside an accompanying video. Check it out below.
The Ohio-born, Oakland, CA-based artist recorded Hyaline in their untreated apartment when they used to live in Brooklyn, using tracks recorded directly into their phone and audio samples collected over the years alongside ethereal guitars and minimal percussion.
'The Only Thing' is "about allowing yourself to be seen fully by another person. When you find they aren't afraid, you realize you shouldn't be either," Maria BC explained in a statement. "It took me a bunch of tries to finish the arrangement for this one. It felt too sparse, while the song is about that full, effervescent, sun-is-coming-up feeling of new love. I spent several weeks adding parts and scrapping them — you know, getting nowhere. Then, at some point, I realized the refrain of another song I was working on had the same chord progression as 'The Only Thing' refrain. I turned that into a kind of counter-melody, Liz Fraser style, and I think it tied the whole thing together."
Hyaline will follow Maria BC's debut EP Devil's Rain.
Hyaline Cover Artwork: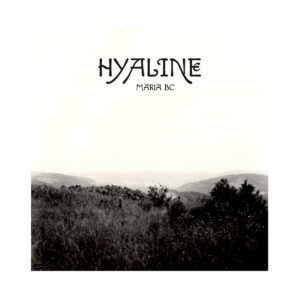 Hyaline Tracklist:
1. No Reason
2. April
3. The Only Thing
4. ROF
5. Keepsakes
6. Rerun
7. ***
8. Betelgeuse
9. The Big Train
10. Good Before
11. Hyaline