Dehd have announced their third album, Blue Skies, which arrives May 27 via Fat Possum. To accompany the announcement, the band have shared a new single called 'Bad Love', alongside a music video co-directed by vocalist Emily Kempf and Kevin Veselka. Watch and listen below.
"'Bad Love' is about recovering from love addiction and making a decision to stop choosing and aligning with people who aren't your energetic match," Kempf explained in a statement. "I wrote it for myself and for everyone who needed to hear a song about choosing new forms of love. It's about chasing a relationship with oneself rather than an unhealthy one, one that just doesn't quite fit, or a codependent one."
Blue Skies will follow Dehd's sophomore full-length, Flower of Devotion, which came out in 2020.
Blue Skies Cover Artwork: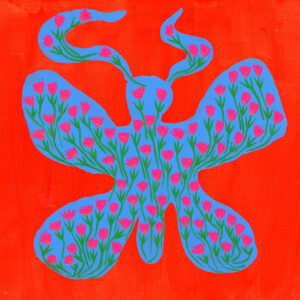 Blue Skies Tracklist:
1. Control
2. Bad Love
3. Bop
4. Clear
5. Hold
6. Memories
7. Window
8. Palomino
9. Waterfall
10. Dream On
11. Empty in My Mind
12. Stars
13. No Difference