Deanna Petcoff has announced her debut album, To Hell With You, I Love You. It arrives on April 8 via Royal Mountain Records, and the new single 'Devastatingly Mediocre' is out today, alongside a video directed by Michael Pugacewicz and Paige Foskett. Check it out and find the album artwork and tracklist below.
"I wrote this song when my friend was dating the most boring guy alive," Petcoff explained in a press release. "He really was so normal, met the bare minimum of being a decent person, and yet she was so infatuated with him. At first I wrote this as a joke because I always called him devastatingly mediocre just to tease her, but when I showed it to my band they loved it and we decided to make it something real. I think it actually holds a lot of meaning for a lot of people – it's so easy to fall in love with someone just because you want to be in love, regardless of whether or not it really works."
Commenting on the video, the directors said: "We wanted to capture the essence of repeating a vicious cycle with dating – how easy and relatable it is to keep dating the same person over and over until you learn whatever lesson you're supposed to learn. We felt like this song really begged us to lean into the campy early 2000's Avril Lavigne skater boy visuals, including the use of a handy cam to elevate the timelessness of this type of love interest, especially since we are seeing a comeback of this era. It was fun for us to put Deanna on a pedestal and give her the power in this video."
Back in December, Petcoff shared the single 'I Don't Wanna Get Over You', which will appear on the new album.
To Hell With You, I Love You Cover Artwork: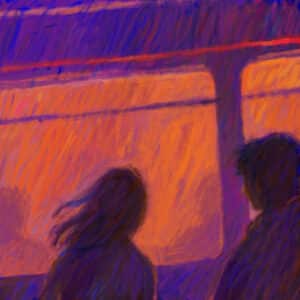 To Hell With You, I Love You Tracklist:
1. Failing Upwards
2. Trash Bag
3. That's What I Get
4. I Don't Wanna Wake Up
5. As Much As I Can
6. Devastatingly Mediocre
7. I Don't Wanna Get Over You
8. I Didn't Lie
9. If You Were Me
10. Sing With Me