London punk four-piece Fresh have announced their new album Raise Hell, which lands on July 1 via Specialist Subject. To accompany the announcement, they've shared a new single called 'Babyface'. Check it out below and scroll down for the record's cover artwork and tracklist.
"It's a song about having a mind that's both overstimulated and under-stimulated at the same time," lead singer and songwriter Kathryn Woods – who is a member of bands including cheerbleederz and ME REX alongside Fresh bandmate Myles McCabe – explained in a statement. "The light, airy synths make it a cry for help masquerading as a pop song."
Raise Hell will include the previously released single 'Morgan & Joanne'. Last year, Fresh released their EP The Summer I Got Good at Guitar.
Raise Hell Cover Artwork: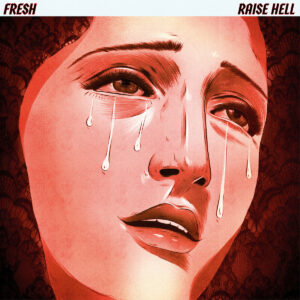 Raise Hell Tracklist:
1. Our Love
2. Morgan & Joanne
3. Babyface
4. Going to Bed
5. Sleepover
6. Fuck Up
7. Deer in the Headlights
8. Pls Don't Cry
9. We All Know (Blondie)
10. I Know I'm Just a Phase to You
11. Why Do I